Get Up, Stand Up.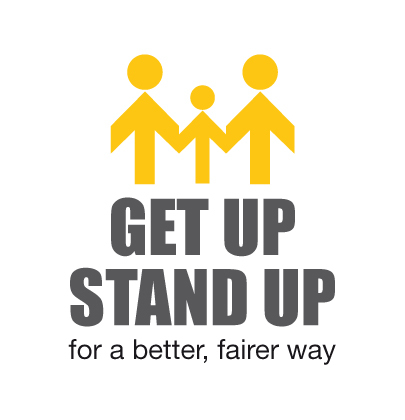 Tackle the Jobs' Crisis, Stop Cuts to Peoples Incomes, Protect Vital Services, Safeguard Peoples' Homes and Make the Wealthy Pay their Fair Share. These are the five guiding principles of the Get Up, Stand Up campaign.
"This campaign is based on the very clear principles of equity and fairness and is concerned not with isolated or discrete sectors of the workforce, but with the great majority of Irish society."
"Consequently, it is our strong conviction that a successful resolution must ensure that the society which emerges from this troubled period will be one which is based on equality, justice and inclusion. Above all it must be based on a complete disavowal of the failed policies that have brought us to this sorry pass."
"If we cut incomes - welfare rates or wages - we are guaranteed only one outcome: more jobs lost and even more people dependent on social welfare. That point is conceded by bodies such as the ESRI."
National Day of Action - November 6th
The INOU took part in the Dublin protest to voice the concerns of the unemployed.
Those living outside of Dublin were able to participate in this day of action at seven other demonstrations that happened in different centres thoughout the country. Please see the list below.
The 8 regional protests all commenced at 2.30pm on November 6th 2009:
* Dublin - Parnell Square
* Waterford - The Glen
* Tullamore - County Hall
* Cork - Connolly Hall
* Limerick - Mechanics Institute
* Galway - The Cathedral
* Sligo - The Blue Lagoon
* Dundalk - The Fairgreen
Check this space in the coming weeks for more information as this campaign develops. For more information about the Get Up, Stand Up campaign please visit the website at http://www.getupstandup.ie