Pre Budget Submission INOU
28 Sep 2016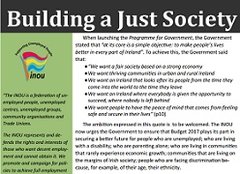 To read the full submission visit:  http://www.inou.ie/download/pdf/inou_pbs_2017.pdf
INOU Pre-Budget Submission
Today the Irish National Organisation of the Unemployed is publishing its full Pre-Budget Submission and notes that when launching the Programme for Government, the Government stated that "at its core is a simple objective: to make people's lives better in every part of Ireland". To achieve this, the Government said that:
 "We want a fair society based on a strong economy
We want thriving communities in urban and rural Ireland
We want an Ireland that looks after its people from the time they come into the world to the time they leave
We want an Ireland where everybody is given the opportunity to succeed, where nobody is left behind
We want people to have the peace of mind that comes from feeling safe and secure in their lives" (p10)
The ambition expressed in this quote is to be welcomed. The INOU now urges the Government to ensure that Budget 2017 plays its part in securing a better future for people who are unemployed; who are living with a disability; who are parenting alone; who are living in communities that rarely experience economic growth; communities that are living on the margins of Irish society; people who are facing discrimination because, for example, of their age, their ethnicity.
The theme of this year's National Economic Dialogue was 'Growth towards a Just Society', to realise such a society, it will be essential for Government to deliver on "the process of budget and policy proofing as a means of advancing equality, reducing poverty and strengthening economic and social rights. We will also develop a new Integrated Framework for Social Inclusion, which will outline measures to help eliminate any persisting discrimination on grounds of gender, age, family status, marital status, sexual orientation, race, disability, religion or membership of the Traveller Community." (PfG, p6)
To ensure that this commitment is inclusive of unemployed people it will be important for a new equality ground to be introduced, a ground that is noticeable by its absence, and that is the ground of socio-economic status.    
In summary the INOU is calling on the Government to:
Start restoring social welfare rates to 2009 levels with an €8 per week increase.
End the inequitable age segregation to Jobseekers Allowance payments by reversing the cuts to younger jobseekers.
Fully Restore the Christmas bonus and change the eligibility criteria from 15 to 12 months.
Increase the duration on Jobseekers Benefit to 12 and 9 months.
Scale up significantly social housing provision to address the level of demand.
Ensure employment programmes are a stepping stone to a decent job.
Participation on these programmes is by choice and people can self-refer.
Increase the top-up payment on employment programmes by €7.50
Increase the income limit on which people start to pay PRSI.
Facilitate access to employment programmes for all unemployed people, including people in receipt of no payment and ex-offenders.
Build on the Department's Strategic Objective to "Put the Client at the Centre of Services and Policies"
Support frontline staff to deliver a person-centred service with good guidance and information on the best options.
Promote the 'fast-track system' and 'payment pending wages' supports.
Incorporate a strong equality and social inclusion focus.
A properly resourced integrated, inter-departmental and inter-agency approach that ensures the maximum possible number of unemployed people get access to decent jobs.
The pro-active and timely provision of good information and practical supports to unemployed people on decent job opportunities. 
The faster achievement of the commitment to increase the National Minimum Wage to €10.50 per hour.
Extend the duration on Back to Work Enterprise Allowance to three years.
Improve local E&T access to improve job opportunities.
Ensure all programmes are open to unemployed people including the 2 year Part-time ICT Conversion course.
Increase income and service supports to facilitate participation and in particular to cover the costs. 
Improve access to guidance counselling and enhance matching of learners needs with appropriate provision.
Properly support CVS organisations addressing social and economic exclusion.
Support local communities to address their local socio-economic needs through the provision of resources to support the development of social enterprises. 
Support and resource good quality alternative and community based learning.
For Further information please contact:
Bríd O'Brien, INOU Head of Policy and Media at 01 856 0088 or 086 608 9641