What training will be delivered?
The QQI / FETAC accredited programme is delivered over three days per week, from 10am to 5pm each day and runs from September to August each year. The training consists of QQI Award levels, a total of nine modules working towards a level 5 Major award in Community Development. A relevant and consistent workplace internship will be organised to run consecutively with the training. Below are sample modules (subject to change).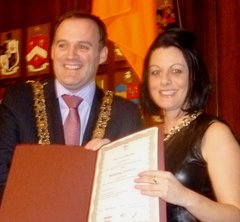 Lord Mayor of Dublin and Erica PenroseBuilding Futures Modules QQI Award level
- Communications   - Social Studies
- Community Development Practise
- Community Arts Context and Practise
- Understanding Community Development
- Personal Development
- Working with Groups
- Work Experience    - Train the Trainer
It is very important to note: A high level of supports are put in place to help participants deal with the demands of the training initiative and to encourage the development of each individual to reach their full potential.