What training will be delivered?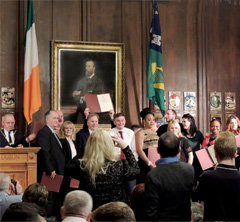 Building Futures Graduation Class of 2014The Building Futures programme is a QQI accredited programme covering a range of level 5 and 6 modules resulting in a level 5 major award in Community Development.
It is a one year full-time programme from September to August and runs from Monday to Friday 10:00 am to 4:30 pm split between two venues. The 2016-17 programme will be delivered mainly at the INOU training facility in Dublin 1.
This course includes workplace internships which will draw on participant's life experiences to enable them to develop the core skill to become effective peer educators, trainers and mentors.
The course modules will include:
QQI LEVEL 5
 Understanding Community Development
 Community Arts in Context and Practice
 Community Development Practice
 Communication
 Personal Effectiveness
 Social Studies
 Work Experience
 Working with Groups
QQI LEVEL 6
 Training, Delivery and Evaluation
It is very important to note:
A high level of supports are put in place to help participants deal with the demands of the training initiative and to encourage the development of each individual to reach their full potential.