Brita Borg and Pia Lonue
Click on the title slide to see powerpoint presentation
What works – A case study from Sweden and principles to help inform excellence in the delivery of Employment Services –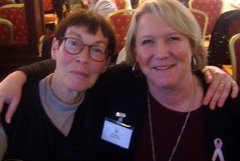 Brita Borg, National Project coordinator, Swedish Public Employment Service
Pia Lunöe, Psychologist, Swedish Public Employment Service
Biographies 
Brita Borg
Coordinator, national project Ung Komp, Public Employment Service (PES), Sweden
Brita has previously worked with Service Concepts, another major national project at the Public Employment Service, which involved servicing, handling and customer-managed processes.
Throughout her professional life, Brita has worked on labor market issues. Brita has specialized in both the employer's need for labor supply and the jobseekers need for support. Brita has a degree in sociology, psychology, and political science. Brita is accompanied by Pia Lunöe, psychologist within the project.
Pia Lunoe
Psychologist, national project Ung Komp, Public Employment Service (PES), Sweden
Pia Lunöe is a licensed psychologist working in Ung komp – Gothenburg. She has been employed by the Rehabilitation section of PES in Sweden since 2002 and joined the project in 2014. She finished her Msc in Psychology in 1995 and started her professional career as a school psychologist. Her focus areas over the years have been dyslexia, refugees, drug abuse, neuropsychology and vocational guidance.