Deirdre McCarthy
Click on the title slide to see powerpoint presentation.
Workshop
Biography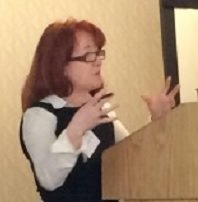 Deirdre McCarthy, Policy and Research Coordinator, Dublin City Community Coop
 Prior to joining Dublin City Community Coop in September 2016 Deirdre worked for Community Technical Aid (CTA) where she managed and developed social inclusion and European programmes. Deirdre's specific areas of interest include; education and training, community childcare provision; tenant issues and urban regeneration; housing; addiction and service provision; and a range of issues relating to the Traveller community, as well as the policies underlining the community development and social inclusion.
Deirdre undertook her primary degree in Sociology in Trinity College Dublin and a subsequent Master's Degree in Women's Studies in University College Dublin. She has 20 years' experience in community work with a particular interest in community research and policy development.