Nuala Whelan
Click on the title slide to see powerpoint presentation.
Workshop
Biography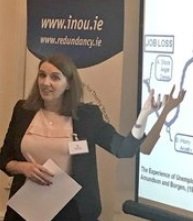 Nuala Whelan, Assistant Manager at Ballymun Job Centre (BJC) and a Chartered Work & Organisational Psychologist.
Nuala holds a BA (Hons) in Psychology from University College Dublin, a MSc. in Industrial Psychology from the University of Hull (UK) and is currently an Irish Research Council Employment Based Scholar at the Centre for Mental Health and Community Research, National University of IrelandMaynooth. With 18 years' experience working with clients who are disadvantaged in the labour market, Nuala's main areas of interest lie in exploring the varying levels of employment service effectiveness, the lack of consistency in approach, and the underestimation of the potential impact of enhancing human capacity for development and organizational success.  Since 2003 Nuala has been involved in securing significant EU funding through the Lifelong Learning Programme (Leonardo da Vinci strand), EQUAL (ESF) and more recently Erasmus+, and during this time, managed eight applied research projects focused on employability, career management, and quality guidance. Her research interests include; psychological impact of labour market policy and its implementation, long-term unemployment, youth unemployment, psychometrics and innovative assessment design, social impact evaluation, effective career guidance for disadvantaged job seekers, labour market activation models, and well-being at work.