Welfare to Work Development Project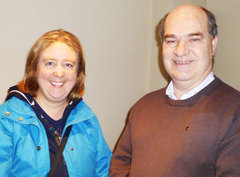 Bríd O'Brien and Padraig Malone at the Limerick Discussion ForumSince 2004, through the work of the Welfare to Work development project we have linked in with our member organisations, assisting them by providing practical supports, to meet the increasingly complex range of issues affecting unemployed people. In 2008, the work of this project was mainstreamed into the work of the INOU. The two main aims of the project are to:
Support people who have recently or are about to become unemployed by providing redundancy related welfare rights information.
Link with member organisations, assisting their work by providing practical supports.
The work of the project includes:
Producing  free information leaflets in plain english, for those who have lost or are about to lose their jobs.
Linking in with employers where redundancies have been announced to provide the staff with information on their entitlements. 
Organising 6 free regional information meetings (discussion forums) per year for front line information providers. These meetings provide a space for:

sharing information, experience and expertise on issues directly affecting unemployed people 
feedback, where information providers can submit queries or issues of concern which may require further action on the part of the INOU 
presentations on both welfare and policy related issues

Linking in with employers where job gains have been announced to highlight the incentives to hire unemployed people.
Developing and maintaining the INOU micro web-site - www.redundancy.ie .
Providing an email and telephone information service for those facing redundancy and information providers.
The project is funded by the Department of the Environment, Community and Local Government under the funding scheme to support national organisations in the Community and Voluntary Sector.
For further information contact the INOU by phone on 01 856 0088