CE Vacancies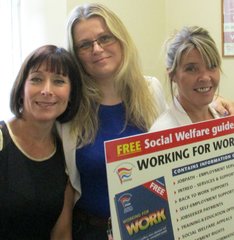 COMMUNITY EMPLOYMENT (CE) WITH THE INOU
Are you long-term unemployed? Have you thought about a transitional work programme? Community Employment helps people to transition back into the workplace after a gap of unemployment. 75% participants of the INOU's CE scheme progressed positively into employment so far this year. CLICK HERE to learn more about Community Employment and the INOU
Current Community Employment vacancies
(Updated: February 1st 2018)
(Click job title for more information)
Afternoon Receptionist/Administrator - CES-2062696, (Ozanam House Community Resource Ctr, Dublin 1)
A fantastic opportunity to develop administration skills in a busy, vibrant Community Centre. This role will involve looking after reception as well as administrative support and the applicant should have good computer skills. 19hours 30 per week, subject to Garda Clearance and references.
Afternoon Receptionist/Administrator - CES-2062703 (INOU)
A pivotal role in the INOU providing front of house reception services including receiving visitors, answering the telephone and logging calls for the Welfare Information section. Good computer and interpersonal skills an advantage.
Web Administrator Assistant - CES-2062704 (INOU)
The Social Media/Web Admin Assistant role in the INOU, is a fantastic opportunity for someone who wants to get into social media as a career. This is a great time to get involved as we are launching a brand new website. The applicant should have good computer skills and an interest in social media.
Information Officer - CES-2062699 (2 positions available) (INOU)
A key role in the INOU Information Office providing Information and Advocacy services on Social Welfare issues by phone and email. Engaging in training in order to assist at information briefings and events. Assisting in production of our key publication 'Working for Work. Full training given.
Are you eligible for a CE Scheme and how to apply
To find out if you are eligible for CE contact your local Intreo Centre CLICK HERE and ask your Officer to refer you. You will need your PPS number and the vacancy reference number for the position.
If you have any questions about these vacancies or about Community Employment in general please do not hesitate to contact the CE Supervisor on admin@inou.ie