And finally...Building Futures Year 5 update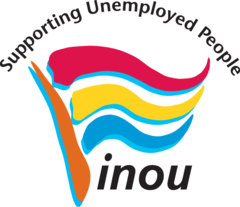 The INOU Building Futures programme has come to an end for another year. It is hard to believe that Year 5 is over already.
While endings are often viewed as something negative, the energy of the group would seem to counter this. With an average progression rate of 80% across the years it makes sense that the energy is more upbeat. Indeed, the excitement is tangible - it would make an onlooker think 'what was so awful that they are so eager to finish', but no, it is the excitement of moving to pastures new that brings this palpable energy.
So what lies in store for our newly qualified participants? The progression paths are as individual as the participants themselves. Some will venture into third-level education, their passion now focused on Education and Training, with a view to impacting others as they have been impacted. Others will embrace their new roles in employment, ranging from youth advocacy to activities coordinator.
While the official ending has arrived the message that 'our door is always open' rings through, maybe another reason why there is a sense of calm and jubilance. After-support, in terms of job alerts, support with job and course applications, CVs, references and peer support, all help to making the transition from one experience to another, much smoother and less daunting.
And, the party is not over. How better to end a wonderful year than the graduation ceremony? Watch this space!