INOU E-Bulletin Issue 23 June 2016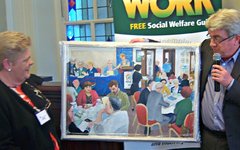 Welcome to the 23rd edition of the INOU's E-bulletin. In this issue we explore the key issues facing unemployed people; what does the new programme for government mean for unemployed people? a review of the Annual Delegate's Conference and a personal experience of returning to adult literacy with DALC.  Brid O'Brien, Head of Policy and Media also explores the Department of Education and Skills' statement of strategy and the recent 'Broken Politics' event.  We have input about Climate Change and Justice and practical advice on CV writing.  We welcome the return of the Springboard Helpline and celebrate with one of our colleagues his success in coaching football. 
Cover photo is the presentation of a painting by Eileen Gallen, commissioned by the Irish National Organisation of the Unemployed, to celebrate all the round table discussion groups at the Annual Delegate Conferences.  Presented by John Stewart, INOU Co-ordinator to Ann Fergus, Chairperson of the NEC, at the INOU ADC at Wynn's Hotel, May 25th 2016.
If you have any events, articles or areas of interest that you would like us to cover please do not hesitate to contact us by email: webadmin@inou.ie
Features in this issue