INOU E-Bulletin Issue 26 February 2017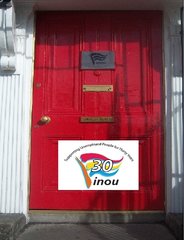 Welcome to the 26th edition of the INOU's E-bulletin. In this issue we explore what the Action Plans for Rural Development; Jobs; and Education mean for unemployed people. There are articles on the unemployment situation in 2016 and what the 2015 Survey of Income and Living has to say about poverty in Ireland. There is a very useful article on Back to Education payments and a very interesting one from Careers Portal. There is a summary of the INOU's submission to the National Women's Strategy 2017-2020 and the report of phase II of the organisation's Employment Services Research project. We have great input from our affiliates with the spotlight on Roscrea Jobs Club Service among others.
Cover photo is the beautiful red door of Araby House with our new logo for 2017: commemorating 30 years of supporting unemployed people.  John Stewart, INOU Coordinator, talks about our 30 years history in an E-Bulletin article.
If you have any events, articles or areas of interest that you would like us to cover please do not hesitate to contact us by email: webadmin@inou.ie
Features in this issue