INOU E-Bulletin Issue 28 July 2017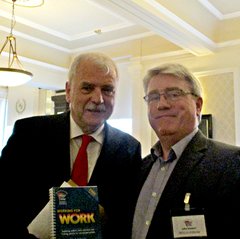 Welcome to the 28th edition of the INOU's E-bulletin. In this issue, we look at the Budget 2018, the Social Welfare Bill, the National Women's Strategy and report back from the Heath Workshop with Community Platform and ATD Ireland.
 There are articles on the Seanad Special Select Committee on the UK's Withdrawal from the European Union, TASC Precarious Work Project and Re-Employment Psychology.  Finglas Cabra Mabs outlines 'basic Banking' for everyone and we have feedback from our individual members about their experiences with employment. There is a review of our Annual Delegate Conference that took place on May 24th, in Wynn's Hotel, Dublin and much more.
Cover photo is Finian McGrath, Minister of State for Disability Issues, holding a copy of Working for Work with John Stewart, INOU Coordinator, at the Irish National Organisation of the Unemployed Annual Delegate Conference 2017 at Wynn's Hotel, Dublin.
If you have any events, articles or areas of interest that you would like us to cover please do not hesitate to contact us by email: webadmin@inou.ie
Features in this issue