INOU E-Bulletin Issue Issue 29 October 2017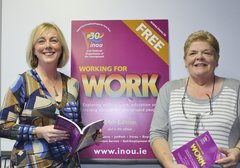 Welcome to the 29th edition of the INOU's E-bulletin. We report on the very successful Launch of Working for Work, 24th Edition, with Minister Doherty, on September 27th in Araby House. In this issue, we also discuss Budget 2018, UN End Poverty Day 17th October and Sustainable Goals, and our submission to the Government's Action Plan for Jobs.
There are articles on Employment & Education for Travellers and a new information leaflet about 'One Step Up' from Aontas.  Focus on Affiliates this issue is on EmploymentFocus, Focus Ireland's Recruitment Service and Southside Partnership's Local Employment Service Career's Week.  We have feedback from an individual member about their experience of unemployment.
Cover photo is Regina Doherty, Minister for Employment Affairs and Social Protection, holding a copy of Working for Work, with Ann Fergus, Chairperson of the INOU, at the Launch of Working for Work, Edition 24, on the 27th of September, 2017 at Araby House.
If you have any events, articles or areas of interest that you would like us to cover please do not hesitate to contact us by email: webadmin@inou.ie
Features in this issue