INOU E-Bulletin Issue 30 December 2017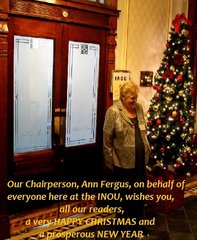 Welcome to the 30th edition of the INOU's E-bulletin
On November 30th, 2017 in Wynn's Hotel, Dublin the Irish National Organisation of the Unemployed (INOU) marked its 30th Anniversary with a major conference on the theme of 'Best Practice in the Delivery of Employment Services'.
With the participation of unemployed people, a range of community groups, representatives from the Swedish Public Employment Service, Senior Civil Servants, DEASP, Local Employment Services, JobPath providers, Local Job Clubs and Employers, this Conference was unique and at the forefront of developments in best practice in employment services.
In this issue, we also discuss the pros and cons of automated technology, the Migrant Access Programme (MAP), Budget 2018 and our submission to the Government's Action Plan for Education.
There are articles from the Samaritans about their wonderful volunteers and in Focus on Affiliates we get a close-up look at Kildare Local Employment Service and filling employer vacancies. 
Cover photo is: Ann Fergus, INOU Chairperson wishing all of our readers a happy Christmas and prosperous New Year. Photo taken by Brendan Sherlock at the 'Best Practice' Conference in Wynn's Hotel. 
If you have any events, articles or areas of interest that you would like us to cover please do not hesitate to contact us by email: webadmin@inou.ie
Features in this issue