Congress Charter for Housing Rights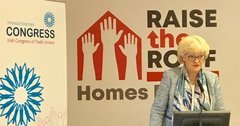 "Congress General Secretary Patricia King, in her opening remarks, said there are close to 10,000 people homeless, many thousands of them children"
Nearly two hundred people including campaigners, union representatives, politicians, community groups, students, housing agencies and members the public attended a major "Raise the Roof" conference in the CWU Centre on Wednesday January 30th, 2019.
The focus of the event was the plight of homeless families and children living in hotel rooms and temporary accommodation. A panel of experts, including urban design architect Mel Reynolds, Brendan Kenny of Dublin City Council, Tanya Ward of the Children's Rights Alliance, and Síona Cahill of the Union of Students of Ireland, addressed the conference supported by the Irish Congress of Trade Unions.
Congress General Secretary Patricia King, in her opening remarks, said there are close to 10,000 people homeless, many thousands of them children.
In her speech she said "we grow accustomed to families living in cars and tents, to children being raised in hotel rooms, to lives being wasted and life chances destroyed. We must guard against this danger and guard against those who would attempt to portray the crisis as intractable. That is a lie".
Patricia King also said "the housing emergency is neither a natural disaster, nor an act of God.  It has been made entirely by human hands and can be resolved and ended the same way".
The General Secretary said the Congress Charter for Housing Rights sets out the principle that there should be a "legal right to housing" and that the situation was a national housing emergency that demanded a major public housing construction programme.
She recalled the launch of the Congress Charter for Housing Rights this time last year and noted that since then the homelessness figures have increased to practically 10,000 people.
The Charter sets out five key principles that offer a clear, coherent solution to this problem over the short, medium and the long-term:
-          Declare a national housing emergency and begin a major public housing construction programme;
-          Establish a legal Right to Housing;
-          Take action to ensure security of tenure and rent certainty for tenants;
-          Stop evictions into homelessness;
-          Develop a national land management policy that will end speculation and hoarding and ensure that public land is reserved for public housing.
"Twelve months on, there are 1,728 families homeless with 3,811 children in those families," Patricia said, noting that one additional family becomes homeless every eight hours. Such is the depth of the policy failure we are witnessing that what was once described as a crisis has now morphed into nothing less than a full-blown emergency, whose impact is felt at all levels and across all sectors of society. The real danger we as a society face is that over time we become numb to these stories, we lose our capacity for anger and slowly, the emergency becomes the 'new normal'.
A cross-party motion was passed in the Dáil last October, with the support of all opposition parties including Fianna Fáil. The motion commits to a set of measures which would bring effect to the Congress Charter for Housing Rights, including introducing a legal or constitutional right to housing. But so far the government has failed to act on it or to implement its terms. Instead, the Budget that was unveiled within days of that vote taking place was an exercise in business as usual.
There were measures to benefit private landlords and an increase in funding for the HAP, which has already doubled over the last two years. By its own calculations, the government will be spending close to €1 billion per annum on all rental supports - money that goes exclusively to private landlords – within the next two years. By contrast, the Budget also included extra funding for social/ public housing. By Congress' calculations, this will deliver the grand total of 700 new homes. That, more than anything, tells you where the housing priorities of this government lie.