Low Pay Commission Consultation Process 2019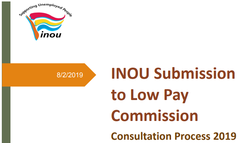 "In the submission the organisation raised concerns we receive from individual members and affiliates about the difficulties in securing access to decent employment"
In February the INOU made a submission to the Low Pay Commission and met with them in late March, 2019. In the submission the organisation raised concerns we receive from individual members and affiliates about the difficulties in securing access to decent employment, including:
-          uncertainty of hours;
-          accessible and affordable transport to get to / from work;
-          childcare and other caring costs;
-          skills and experience mismatch with available employment;
-          access to good information; and
-          the particular challenges facing women; people living in / from particular communities and minority groups; people with disability; and older people.
On the Low Pay Commission's website they note that their principal function is "to examine and make recommendations to the Minister on the appropriate level of the national minimum wage and related matters." They undertake this function annually and "make such recommendations to the Minister that are designed to set a minimum wage that is fair and sustainable, and when appropriate, is adjusted incrementally, and that, over time, is progressively increased to assist as many low-paid workers as is reasonably practicable without creating significant adverse consequences for employment or competitiveness."

National Minimum Wage
The National Minimum Wage in 2019 will be €9.80 per hour for 'an experienced adult worker'. The NMW will be €6.86 for someone aged under 18 years; €7.84 for someone aged over 18 for the first year from the date of their first employment; and €8.82 for someone aged over 18 for the second year from date of their first employment. The reduced rates for young people aged 18-20 years are questionable, and send a negative message to young people about their contribution to the world of work.
In 2017 the Central Statistics Office published a special Quarterly National Household Survey on the National Minimum Wage (NMW). Over the three quarters examined in 2016, 10.1% of those in employment were earning the NMW or less. A very striking feature of this study was the age profile of the proportion of employees reported to be earning NMW or less: the overall figure was 10.1%, but for people aged 15-24 it was 41.5%. Now many people in this age group will be students hopeful of acquiring much better employment when their studies are complete. But for others, the prospects of moving on into a decent job are far more challenging and potentially unattainable. The reality is that those with a higher educational attainment tend to be the people who pursue life-long learning opportunities and often working in sectors where this is expected and supported. But, for others they are facing a cycle of uncertain and low paid work and inadequate welfare.
In SOLAS 2018 FET Services Plan they note "There are approximately 200,000 workers in the Republic of Ireland or around 10 percent of the workforce employed in low skilled elementary jobs. Individuals with a low level of skills find it more difficult to secure and sustain employment and are often at risk of poverty and deprivation, more likely to be in receipt of supplementary social supports and can often fall into the category of the 'working-poor'." (p14)
In DPER's Social Impact Assessment 2018 on the National Minimum Wage they note "Data from OECD countries shows that younger workers, those with lower levels of education and those on temporary contracts are more likely to earn the minimum wage (OECD, 2015)." (p20)
Later on in their paper DPER reference the ESRI paper "A Study of Minimum Wage Employment in Ireland: the role of worker, household and job characteristics" published in 2017 and funded by the Low Pay Commission. DPER notes that "The paper finds that while females were over twice as likely to be earning the NMW compared to males, a significant element of this can be explained by the type of job undertaken and the type of occupation or sector. The higher number of young people earning the NMW can be explained by lower levels of experience and the type of employment undertaken." (p21)
In conclusion the INOU notes that there is 'A Programme for a Partnership Government' commitment to "Increase the minimum wage to €10.50/hour by 2021" (p135). Given that the Living Wage for Ireland in 2018 was estimated as €11.90 per hour, it is absolutely critical that the Government target is not only met, but that a more ambitious target is set and achieved. 
To read the full submission please follow this link https://www.inou.ie/download/pdf/submission_on_low_pay.pdf