Review of the National Action Plan for Social Inclusion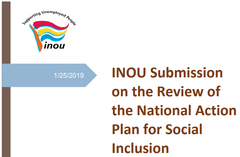 "To date there has been a lack of a 'whole of Government' approach to seriously addressing social exclusion, poverty and inequality"
In January, 2019 the Department of Employment Affairs and Social Protection issued a public call for submissions on the existing National Action Plan for Social Inclusion, seeking views on:
-          The extent of progress made on the high-level goals and National Social Target for Poverty Reduction, taking account of the major socio-economic changes that took place over the period 2007 to 2017;
-          The extent of implementation of the actions underpinning the high-level goals in NAPinclusion;
-          The relevance and comprehensiveness of the monitoring and governance structures underpinning NAPinclusion; and
-          Any lessons relevant to inform the approach to dealing with social inclusion at a cross-government level.
Poverty Targets
-          NAPSI 2007-2016 Overall Poverty Goal: To reduce the number of those experiencing consistent poverty to between 2% and 4% by 2012, with the aim of eliminating consistent poverty by 2016, under the revised definition.
-          Updated NAPSI 2015-2017 National Social Target for Poverty Reduction: The revised target is to reduce consistent poverty to 4 per cent by 2016 (interim target) and to 2 per cent or less by 2020, from the 2010 baseline rate of 6.3 per cent.
On December 17th, 2018 the Central Statistics Office published the Survey on Income and Living Conditions, SILC, for 2017. At the national level the consistent poverty rate changed from 8.2% in 2016 to 6.7% in 2017, a long way off either the national goal or target. Looking at these figures from the perspective of people who are unemployed, key poverty indicators are much higher for unemployed people than the national figures. Their consistent poverty rate increased from 23.4% in 2016 to 24.1% in 2017. Households with no-one at work, often called 'jobless households', had a consistent poverty rate of 21.3% in 2017. Clearly, not only are strong national targets / goals required, but sub-targets are also essential to address the poverty and social exclusion facing so many people.
Income Supports
-          NAPSI 2007-2016 Goal 6: Income Support - Maintain the relative value of the lowest social welfare rate at least at €185.80, in 2007 terms, over the course of this Plan, subject to available resources.
Looking at the changes in working age payments vis-à-vis changes in the Consumer Price Index, Jobseekers payments held their own initially, as payments were increased to address the income inadequacy facing unemployed people and others of working age. However, this relationship changed over the rest of the period when working age payments were cut. While recent increases in these payments will be of assistance, it must be noted that the CPI is an overall index and as such its relevance to issues associated with poverty and income inadequacy is questionable. The work of the Vincentian Partnership for Social Justice on the development of a Minimum Essential Standard of Living examines the actual living costs of people with fewer means and the resources they require to meet these needs. As is evident from this work a more ambitious target would be required.
Employment & Activation
There were four goals under these two headings: NAPSI 2007-2016 Goal 5: Employment and Participation; Updated NAPSI 2015-2017 Goal 7: Youth Employment; Updated NAPSI 2015-2017 Goal 5: Labour Market Activation; and Updated NAPSI 2015-2017 Goal 6: Welfare to Work.
Over the time period, 2007-2017, income supports and employment services were brought together under the Department now called Employment Affairs and Social Protection, and rolled out through an activation model. This presents particular challenges. For example, some people are very distant from the labour market and an activation approach is not necessarily the best approach from them. They require a developmental approach, one that facilitates them to participate in the most meaningful way for them, where accessing the labour market may be a longer term objective. This group also need access to a wide range of quality services, working collaboratively to address the person's needs. During the crisis expenditure cuts had an impact on many services; new ways of funding and assessing impact have also thrown up challenges; and the people who have lost out most, are the more marginalised and vulnerable.
Implementation of Actions Underpinning High-Level Goals
The production of publications like the Annual Reports, Social Monitors and Social Impact Assessments are useful, though more timely production would be welcome. In terms of the Annual Reports there is a need to move beyond the descriptive piece to an assessment of impact across the three active inclusion strands. The Social Monitors and Impact Assessments reports cover the issues of poverty quite well, however the impact of quality services, or the lack thereof, and people's ability to participate in Irish society is missing from this work. The lack of quality services significantly impacts on people's ability to participate and manage their lives, which in turn exacerbates poverty, social exclusion, inequality and access to the labour market.
Monitoring and Governance Structures Relevance and Comprehensiveness
Consultation must involve real debate and dialogue and feedback on input received, this would be particularly useful in the annual Social Inclusion Forum. This could create policy and implementation mechanisms that have the demonstrated capacity to learn from all the key actors and provide the wherewithal to engage with them to make continuous improvements.
Relevant Lessons to Inform Cross-Government Approach
To date there has been a lack of a 'whole of Government' approach to seriously addressing social exclusion, poverty and inequality; there has been little evidence of a cohesive demonstrated commitment to addressing these issues; and there is a sense that they were seen as the responsibility of just one Department, the Department of Employment Affairs and Social Protection, which cannot resolve these issues on its own.
Yet to deliver on a NAPSI of substance, it must be seen as the responsibility of every Government Department and agency. Policies under their remit must explicitly spell out how they will address these issues with a clear timescale, milestones and markers of progress. The development and implementation of the Public Sector Equality and Human Rights Duty should play an important part in 'rights-proofing' policy in this regard.
To read the full submission please follow this link https://www.inou.ie/download/pdf/national_action_plan_for_social_inclusion.pdf