INOU E-Bulletin Issue 38 September 2019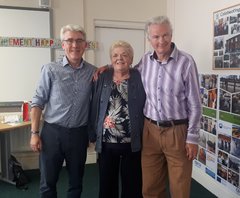 Welcome to the 38th edition of the INOU's E-bulletin.
In this edition we look at some of the latest publications from the Department of Rural and Community Development, including National Social Enterprise for Ireland 2019-2022, and Sustainable, Inclusive and Empowered Communities: A five-year strategy to support the community and voluntary sector in Ireland 2019-2024.We are also featuring pieces from Inner City Enterprise on the subject of Social Enterprises. The summary of the INOU's pre-budget submission, and our Welfare Information section's Out & About are also featured as well as a piece on the latest unemployment figures. An article on the graduation of the Ballymun Job Centre's IN-VEST IT Training Programme class discusses the programme and its success. We also have a submission from an individual member about their experiences of unemployment. There is an article commenting on the July report Fair Recovery from the Office of the Ombudsman. A piece on AONTAS's 'One Step Up' programme is featured. We also have a conversation with a recent graduate of our Building Futures programme who won an Uveristy Scholarship. Finally, there is also a piece wishing farewell to our colleague Eric Conroy following his retirement on September 5th.
If you have any events, articles or areas of interest that you would like us to cover please do not hesitate to contact us by email: webadmin@inou.ie
Features in this issue