IN-VEST IT Training Programme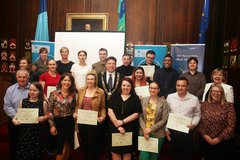 Through the delivery of individualised career guidance and work experience, the programme also provides participants with a clear progression pathway.
The IN-VEST programme is a pilot initiative designed to introduce unemployed people to the IT sector while enhancing their soft skills and project management skills. It is supported by J.P. Morgan and implemented by the Ballymun Job Centre in collaboration with An Cosán and the Department of Employment Affairs and Social Protection. Four cycles of IN-VEST were delivered with 20 participants each from January 2018 until August 2019 in the Job Centre's premises in the Ballymun Civic Centre. IN-VEST was developed in order to address a need for a labour market programme that is participant-centred and integrates the development of technical skills alongside the development of motivational and communication skills. Through the delivery of individualised career guidance and work experience, the programme also provides participants with a clear progression pathway.
Each IN-VEST cycle ran part-time over 6 months and culminated in 6 weeks of work experience. Instructors from An Cosán delivered training modules that provided participants with an introduction to web design, coding, online security, and Microsoft and Google applications. The modules were delivered in a creative, project-based format that saw participants working in groups and learning about their leadership styles and their roles in a team setting. Due to the flexible, non-formal methodology that An Cosán implements, the instructors successfully integrated soft skills lessons about time management, communication, and team work into the IT modules.  This contextualised the kind of comprehensive skillset the participants would be expected to have for their work experience placements and in the current and future labour market.
Visits to IT companies and presentations from industry professionals were a core component of the IN-VEST programme. Participants visited tech multinationals like Microsoft, Twitter, Salesforce, and Accenture and hosted guest speakers from IBM and FIT Ltd. The visits proved to be a valuable networking opportunity for the participants and enabled them to discover more about potential careers in the IT sector. In order to prepare for their work experience placements, the participants attended the Ballymun Job Centre's Job Club programme and developed their CV and interview skills in addition to creating LinkedIn profiles. They then put these skills to use by attending mock interview workshops hosted by J.P. Morgan staff in their offices in the IFSC. The J.P. Morgan volunteers provided the participants with personalised feedback and gave them a tour of their facilities demonstrating the technology used on a daily basis.
Throughout the programme, participants met with Job Centre LESN staff on a regular basis to receive holistic guidance supports. This enabled staff to create meaningful relationships with the participants and to identify and resolve barriers to engagement. It also allowed the programme staff to gain a better insight into participants' needs, interests, and skillsets which aided in identifying appropriate work experience placements and progression options. Work experience placements were provided by various community based organisations and SMEs including FIT Ltd, Business in the Community, Women for Election, Dublin Inquirer, and JobAlert.ie. The placements benefitted participants in terms of further developing both their technical skills and their confidence and self-esteem.
Upon completion of the IN-VEST programme, 61% of those who started the programmes (and 66% of programme completers) accessed employment, education/training/CE.  The majority progressed to further education or training including the Adult Leaving Certificate programme and QQI Level 5 courses in Animation, Medical Administration, Business, and Software Development. Others have gone on to work in administrative and logistics roles while some participants are completing e-college courses and certified ESOL programmes. Overall, feedback from participants was overwhelmingly positive with the preliminary results of a Social Return on Investment (SROI) evaluation indicating an increase in participant independence and personal development.
The flexibility afforded to the development of the IN-VEST programme by J.P. Morgan enabled the Ballymun Job Centre to adapt and change the curriculum and format as each group of participants progressed through the programme. This allowed for a continuous feedback process and learning loop, ensuring that each programme was influenced by its predecessor. This is an important feature of any pilot programme, but requires analysis from outside the day-to-day programme delivery to extract the learning. To enable this a steering committee was established, in addition to the external SROI evaluation, to advise, support, and analyse the programme and its impact over the project lifetime.  Members were drawn from a range of backgrounds relevant to the programme and included the INOU, the Department of Employment Affairs and Social Protection, FIT Ltd., the City of Dublin Education and Training Board, J.P. Morgan, Microsoft, the National Economic and Social Council, the BJC Board, and the National Youth Foundation of Ireland. Their understanding of the context and the participants ensured practical and solution focused guidance on programme content, participant support, future employment and policy learning.
To date four key themes have emerged from the steering committee analysis and the external evaluation, which offer important learning for programmes aimed at supporting young people who are distant from the labour market. Firstly, the value of a non-formal training environment which has the capacity to respond flexibly to participants needs and provide them with a holistic support system. Secondly, the programme should be underpinned by a group career guidance approach offering contemporary labour market and career information to participants and which allows each individual to develop a sense of career identity and efficacy. A third important theme relates to the provision of work experience and how it is viewed by both employers and participants. Greater collaboration between programme organisers and employers could enable meaningful experiences and greater opportunities for both participants and employers. Finally, changing how we measure training outcomes, to include the often differing sub-steps that each individual takes on their journey towards the labour market - measuring the equity in training – will illustrate the often undocumented evidence of programme impact.