Social Enterprises ICE: Dublin City Enterprise Awards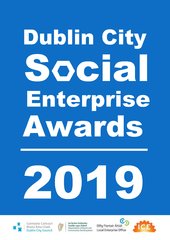 Social enterprises have huge potential in terms of both building up marginalized communities as well as creating employment and developing the skills of participants who get involved.
The Dublin City Enterprise Awards was established by Inner City Enterprise (ICE) and Dublin City Council with the support of the Local Enterprise (LEO) Dublin City in 2015.These partner organisations recognised a gap in the market for small flexible grants to kick-start the creation or development of social enterprises in Dublin City. DCC agreed to provide €50,000 in grant aid funding for the projects; while a further €30,000 in funding was allocated by the Department of Housing, Planning and Local Government channelled through the Dublin LEO and paid to Inner City Enterprise for the ongoing administration and maintenance of the 2018 Social Enterprise Grant Scheme; as well as the provision of business supports for the ongoing development of social enterprises in Dublin City.
DCC's funding of the Grant Scheme also tied into 3 of the Higher Level Goals of its Local Community & Development Plan which are centred on the provision of enterprise supports for both micro and social enterprises.
In essence, social enterprises are traded businesses that have a specific social mission as their aim but where at least part of its income is earned from its traded activities and where its surplus/profits are primarily re-invested back into its core objective.
During the last 5 years that this Scheme has been in operation, the ICE Team has assessed over 80 applications from the Dublin City area; and the Dublin City Social Enterprise Committee have allocated 25 new grants to those budding or newly developed businesses. There are many examples including:
-          In My Shoes Tours: Merchants Quay, Ushers Quay, Thomas St and some of the surrounding areas have some of the highest rates of unemployment, but the area also hosts some of Irelands most visited tourist spots in the country. So Robert Emmet CDP came up with the idea of training local unemployed people with strong communications skills to deliver unique insider walking tours of their own community for the tourists. These tours encompass history, heritage and humour.
-          SPARK is a social enterprise that aims to address the lack of socialization opportunities for young children with Autism-4-7 years old, who are out of school and living in disadvantaged areas. The aim is to develop the children's social skills so they can then attend school.
-          Re-discover Fashion is a 100% recycled fashion label that produces crafted fashion, accessories and home ware ranges. It is an environmental social enterprise established under the umbrella of the Rediscovery Centre based in Ballymun. As well as promoting waste prevention and textile reuse, it also provides training and employment within the Ballymun area.
-          PACE is a not-for profit organization that has been providing training for prisoners and young ex-offenders for over 48 years. Last year a group of young ex-offenders in PACE built a mobile coffee cart with the goal of this project being to move young ex-offenders into main stream employment by using them to staff the mobile cart. The coffee cart is now parked in the car-park of the Law Library!
-          We Make Good is a social enterprise initiated by Quality Matters whose aim is to work with the Irish design community to identify and develop products, e.g. cushions, throws, stools, chopping boards and bowls that can then be produced by people in Probation and other social services who need support to access the labour market including Travellers and unemployed individuals.
-          Walkinstown Green Social Enterprises Ltd includes both the Green Kitchen Café and the Green Garden Centre aims to create employments and training opportunities for people with intellectual disabilities, living in Walkinstown.
-          Thriftify is an entity which helps charity shops to make money by supplying them with a simple software solution to sell their second-hand books online. Working with charities such as the NCBI they collect 200 books weekly that were going to be shredded and sell them instead.
-          Mendicity is the second oldest charity in Dublin and provides a range of services and supports for the homeless and the 'rough sleepers'. Their social enterprise is centred around a training workshops which teaches woodwork skills and makes wooden planter boxes and other wooden products, as well as creating some beautifully crafted cooper awards for individual organizations.
 Social enterprises are increasingly playing a key role in both our social and economic climates. Social enterprises have huge potential in terms of both building up marginalized communities as well as creating employment and developing the skills of participants who get involved. The above enterprises have the capacity and ability to impact across a wide range of sectors including healthcare and wellness, community shops, recycling projects, tourism and heritage and leisure and sports services.
The inherent value of the Dublin City Social Enterprise Scheme has been in supporting new and newly developed social enterprises in Dublin City to start trading and/or to continue developing their growth potential. It has also given ownership back to the local communities in delivering much needed resources and employment through self-sustaining social enterprises.
So if you live in the Dublin City area and have an idea for a social enterprise why not contact ICE at 01 617 4852 or contact us at info@innercityenterprise.com and get ready for the Dublin City Social Enterprise Scheme Awards 2020!