INOU E-Bulletin Issue 39 October 2019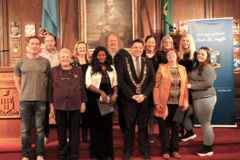 Welcome to the 39th edition of the INOU's E-bulletin.
In this edition we look at Budget 2020 and what it delivered for unemployed people. The Welfare Rights Information Section's Out & About article covers the period July to October, 2019. There is an article on Disability, Unemployment and Reasonable Accommodation. There is a short report on the graduation of the participants on the 9th Building Futures programme. An individual member talks about their experience of unemployment, and an affiliated organisation, Galway Rural Development, writes about the role of SICAP in addressing rural and social isolation. There is an article from the recently appointed Traveller Employment and Enterprise Policy Officer, and another from INOU affiliate Pavee Point, highlighting that Travellers and Roma featured significantly in FLAC's 2018 Annual Report. There is an article on Youth Work Ireland's Work to Learn programme. Another article talks about the recent Pathways to Work consultations organised by the INOU and the DEASP. There is an article on the Department of Employment Affairs and Social Protection's recent Compliance and Anti-fraud Strategy 2019-2023. And finally it is we regret that we note the passing of Des Bonass, the longest serving member of the INOU's National Executive Committee.   
If you have any events, articles or areas of interest that you would like us to cover please do not hesitate to contact us by email: webadmin@inou.ie
Features in this issue