Des Bonass RIP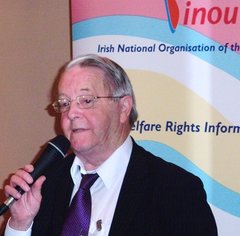 "Des was a committed advocate for unemployed people and other marginalised groups and was involved in many INOU campaigns over the last three decades."
It was with much sadness that we learned of the death of our friend and colleague Des Bonass who passed away on 26th September, 2019.
Des was the longest serving member of the INOU's National Executive Committee, having served on the Committee for nearly 30 years as the representative of the Dublin Council of Trade Unions. Des was a committed advocate for unemployed people and other marginalised groups, and was involved in many INOU campaigns over the last three decades. 
Representatives from INOU member organisations would have gotten to know Des over the years as Des attended virtually every INOU Annual Conference since the organisation's inception. Des frequently spoke with passion and conviction at these and other INOU events.
The National Executive Committee and staff of the INOU would like to extend their condolences to Des' family and to his colleagues in the trade union movement. May he rest in peace.