Long-term unemployment doubles
9 Dec 2010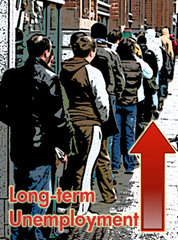 In a week when the Houses of the Oireachtas are voting, for a second year in a row, to cut social welfare payments to people of working age, figures published today show that long-term unemployment has doubled over the past year. According to the Quarterly National Household Survey, Quarter 3 2010 published today by the Central Statistics Office, long-term unemployment now stands at 140,400, representing 47% of the overall unemployment figure. A year ago long-term unemployment stood at 71,400 or only 26% of the overall figure.
Putting this figure into perspective, the National Recovery Plan only talks about a cumulative increase of 90,000 jobs over the four year period. "This doesn't even amount to a prospect of a job for those currently long-term unemployed, let alone anyone else who will be looking for work", noted Bríd O'Brien, Head of Policy and Media with the INOU.
Likewise Tuesday's Budget did not hold out much hope as the only positive initiative was the announcement of 15,000 additional activation places. "Though we would welcome this development we are very conscious that this is but a drop in the ocean and potentially meaningless in the absence of a coherent jobs strategy," concluded Bríd.
The INOU urges all elected representatives to vote against cuts to social welfare.