"No cuts to Social Welfare Payments"
26 May 2011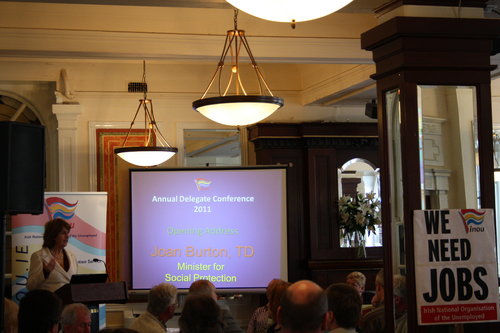 At the Annual Delegate Conference on May 26th , Ann Fergus, Chair of the Irish National Organisation of the Unemployed in welcoming the Minister for Social Protection, Joan Burton, T.D. to address the delegates, called on her and her Government to honour their commitment in the Programme for Government to "maintain social welfare rates".
Ann noted that "unemployed people and their families are struggling to survive and it is imperative that the Government does its utmost to give people a real sense of hope for their future here in Ireland".
"In a week when 'yes we can' was heard to echo in the streets of Dublin," Ann continued, "yes we must has to be our motto when it comes to job creation and getting people back to work as soon as possible".
The Conference called on the Government to ensure that their proposed new National Employment and Entitlement Service strives to "deliver an effective and efficient employment and related service to unemployed people which strives to meet their needs in a holistic way".
The Conference also called on the Government "to develop and implement as a matter of urgency an integrated and inclusive Jobs Strategy that will ensure access to decent work for all". Delegates were keenly aware that without a good Jobs Strategy there will too little employment or hope for the new service to offer unemployed people.