'Working for Work' launched
25 Jul 2011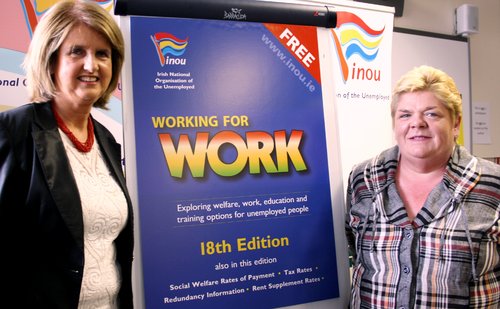 Today Minister for Social Protection, Joan Burton, T.D. launched the 18th edition of Working for Work in Araby House, the INOU's office. In welcoming the Minister to Araby House Chair of the INOU, Ann Fergus thanked her Department, FÁS and the Department of Education and Skills for the necessary funding to produce this publication.
"Working for Work is an invaluable resource both to unemployed people and people working on the ground trying to tackle unemployment," noted Ann.
"Unemployment is at unprecedented levels and to address it the Government must strive to create sufficient employment to give unemployed people and young people leaving school and college the prospect of a real job," said John Stewart, Co-ordinator with the INOU.
"In the meantime it is critical that the proposed reform of social welfare and employment services has at its heart meeting the needs of unemployed people and strives to provide them with a world class service," concluded John.