Tackling long-term unemployment must be prioritised
4 Apr 2012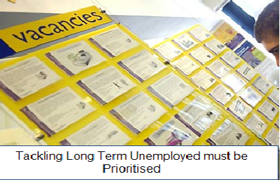 Seasonally adjusted, there was a decrease of 3,000 on the Live Register in March. The LR now stands at 434,300 giving a standardised unemployment rate for March of 14.3%.
"This reduction follows on from reductions in the register for December, January and February. If these reductions are as a result of people taking up work here in Ireland then this would be a very positive development. However, the figures more likely reflect the fact that a significant number of people have given up hope of finding a job in Ireland and have decided to emigrate. Unemployed people also leave the Live Register to take up education, training and other programmes or as a result of their not making the transition from Job Seekers Benefit to the means tested Job Seekers Allowance" noted John Stewart, INOU Co-ordinator".
The number of people who have been on the Live Register for more than a year stands at almost 185,000. In the Pathways to Work Initiative, the Government has set itself a target of getting 75,000 people who are currently long-term unemployed back to work and to reduce the average time spent on the live register from 21 months to less than 12 months by the end of 2015.
In order to achieve this objective, it is absolutely vital that state supports and services for unemployed people and particularly long-term unemployed people are properly resourced and developed. The Government must ensure that unemployed people are supported and given a genuine pathway back to work" John concluded.