Long-term unemployment hits 200,000
1 Aug 2012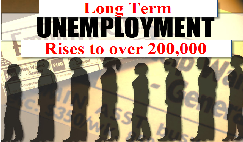 According to today's Live Register figures released by the Central Statistics Office for July, the unemployment rate now stands at 14.8 %. Seasonally adjusted, there were 437,300 people on the register in July, a decrease of 2,300 on the figure for June.

However, the number of people on the register for more than a year now stands at an all time high of 200,086 people. "This is a deeply worrying figure. Unemployment impacts on people in many different ways, people who are long-term unemployed face particular challenges - if you're long-term unemployed its infinitely more difficult to get back to work" said John Stewart, Co-ordinator with the INOU.

Ireland's unemployment crisis demands levels of intervention on a much larger scale than have taken place to date, particularly to tackle long-term unemployment.
Such interventions should be seen as an investment in Ireland's social and economic future and not be seen as a cost.
"People need to get back to work as soon as possible. We welcomed the recently announced €2.25bn infrastructural stimulus package. It's absolutely critical that the Government and its agencies move quickly from announcement to implementation. Unemployed people are desperate to get back to work and the proposed 13,000 jobs must become a reality as quickly as possible and unemployed people must be supported to get these jobs." John concluded.