Budget 2013 and unemployment
5 Dec 2012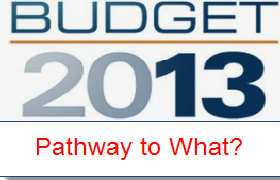 After much speculation Budget 2013 has finally been announced. The Budget does not do enough in two vital areas. It will make the path to work, education and training more difficult for unemployed people and will further undermine the social insurance model, a model that the Minister sees as integral to our social protection system.
As predicted the duration an unemployed person can stay on Jobseekers Benefit has been cut from 12 months to 9 if he or she has made over 260 PRSI contributions. Similarly, if the person has paid less than 260 contributions they will only now have an entitlement to a JB payment for 6 months. So, for example, a person who has worked for 20 years or more and whose partner is working may find themselves cut adrift from any supports from the State after nine months. Yet he or she will be unemployed, see him or herself as unemployed but they will receive no supports from the State to assist them to get back to work.
Yet the State will be taking more PRSI contributions off all workers as anyone earning over €352 per week will pay on everything after: this is a regressive step and will particularly hit low income workers.
Another striking feature of the budget is the cutting of supports for unemployed people undertaking further education and training. This will hit in particular young people for whom Jobseekers Allowance had been cut in the past to encourage them to take up education and training options. The rationale for offering participants a full rate was to support people to re-skill themselves, to improve their chances of securing employment. Yet the cut to the Cost of Education Allowance; the equalisation of a training allowance with a participant's previous social welfare payment; and a maximum limit of €160 for young people will make it harder for people to go down this path as they will find it unaffordable.
Child Benefit has not only been cut by €10: it has also been cut from €148 for the third child to €130; and from €160 for 4th child+ to €140. The provision of additional childcare or early years supports may be of benefit to some families. However, for many families struggling on a social welfare payment or a low income job this cut in Child Benefit is further exacerbated by the cut in the Back to School Clothing and Footwear Allowance. This payment has been cut from €150 to €100 for children of primary age; and from €250 to €200 for children aged 12+. Yet the cost of education continues to rise. According to the last Consumer Price Index education inflation ran at 6.7% in comparison to a national average of 1.2%.
The INOU is acutely aware of the importance of local and community development in providing important supports and services to unemployed people including the provision of access to employment. At a time when increasing demand on the ground it is disappointing to see further expenditure cuts envisaged for these programmes.
On a positive note the maintenance of the basic social welfare rate, as sought by the INOU, is to be welcomed. As are the additional places in Community Employment, TUS, JobBridge: it is critical important that these supports are meaningful for participants and lead on to decent employment.