Unemployment a reality for far too many people
29 Aug 2013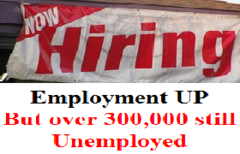 Increase in numbers in employment but unemployment remains a stark reality for far too many people
Today the Central Statistics Office published the Quarterly National Household Survey (QNHS) figures for Quarter 2 2013.
Employment increased by 33,800 over the year to 1,869,900 and unemployment fell by 22,200 in the same period. It should be noted, however, that there was only a quarterly decrease of 500 in the seasonally adjusted number of people unemployed which resulted in a marginal percentage decrease in the seasonally adjusted unemployment rate from 13.8% to 13.7%. .

"The increase in the overall numbers of people in employment coupled with the increase in the numbers of people in full-time employment is to be welcomed. However, over 300, 000 people remain unemployed and 175,000 of these are long-term unemployed" said John Stewart, INOU Co-ordinator. "These figures should also be read in the context of the recently released population and migration data from the CSO which shows that in the year to April total emigration from the country is estimated to have reached 89,000.
The reality is that the vast majority of people are emigrating for economic reasons" John added.

"Notwithstanding the increase in the numbers in employment, there are still huge numbers of people who are fearful about the prospect of remaining unemployed and who are also very worried about the possibility of seeing their incomes further reduced in the forthcoming budget. It is vital that the Government stands by its commitment to maintain social welfare payments and pursues a more ambitious and innovative investment and job creation programme" John concluded