Budget must deliver for unemployed people
2 Oct 2013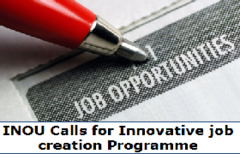 Today the Central Statistics Office released the Live Register figures for September, which show that the overall register continues to float downwards. The seasonally adjusted Live Register figure now stands at 414,300 giving a standardised unemployment rate of 13.3%. The number of people who have been unemployed for more than a year is 188,881.

If the on-going fall in the Live Register is as a result of unemployed people going back to work then this is a very positive development for those individuals and their families. However, there are likely to be a number of different factors at play here including the impact of emigration and also people not making the transition from Jobseekers Benefit to the means tested Jobseekers Allowance said John Stewart, INOU Co-ordinator.

Given the rate that the Live Register is falling it will take many years for the country to get back to the levels of unemployment prior to the bust. Unemployed people can't afford to wait so long for this to happen. The INOU is calling on the Government to deliver for unemployed people in the upcoming budget. Amongst other things, the INOU is calling for a much more ambitious and innovative investment and job creation programme together with an inclusive and accessible employment service with a dynamic job matching facility " John concluded.