Make 2014 the year of jobs
8 Jan 2014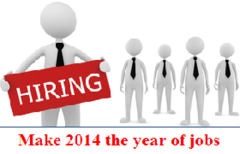 Today the Central Statistics Office released the Live Register figures for December   which show that the overall register continues to float downwards. The seasonally adjusted Live Register figure now stands at 402,800 giving a standardised unemployment rate of 12.4%. The number of people who have been unemployed for more than a year is 179,621.
If the on-going fall in the Live Register is as a result of unemployed people going back to work then this is a very positive development for those individuals and their families. However, there is no room for complacency as there are likely to be a number of different factors at play here including the impact of emigration and also people not making the transition from Jobseekers Benefit to the means tested Jobseekers Allowance, said John Stewart, INOU Co-ordinator.
Given the rate that the Live Register is falling by it will take many years for the country to get back to the levels of unemployment prior to the bust. Unemployed people can't afford to wait so long for this to happen. The INOU is particularly concerned about the on-going high level of long-term unemployment. The impending roll-out of the Department of Social Protection's Intreo Service to people who are long-term unemployed, if properly resourced, has the potential to support and assist unemployed people to access employment.
However, we need to see much more significant job creation for this to become a reality. The INOU is calling on the Government to prioritise 2014 as the year for creating jobs that will help long-term unemployed people to get back to work. For example, with appropriate investment, significant numbers of construction related jobs could be created by improving the country's infrastructure. The need for this has been dramatically highlighted by the recent flood damage that has occurred around the country. John concluded.