New report from Community Platform on the human impacts of austerity
26 Feb 2014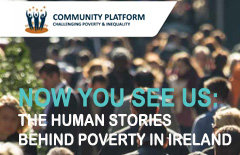 The Irish National Organisation of the Unemployed is one of 30 national organisations working against poverty and inequality through the Community Platform. Today, we have launched a report, Now you see us- the human stories behind poverty in Ireland,  that highlights the Government's failure to protect the most vulnerable in Irish society. The report warns that the dual attack of unemployment and relentless cuts at national and local level has pushed individuals, families and communities into poverty. It features a series of interviews with families, single people, community workers and marginalised groups on how the recession and resulting government policies have affected their lives. The publication aims to reveal the human stories of those hardest hit by austerity policies and the devastation suffered by people on low income and social welfare throughout the recession.
The report documents parents going hungry to feed their children, people unable to heat their homes and a young generation at serious risk of being lost to unemployment, drugs and crime. Robin Hanan, EAPN and secretariat to the Community Platform said "As we move out of the recession we must also move away from austerity policies. The Government now has no excuse not to carry out poverty and equality impact assessments as a central part of all policy making. Too often the Government focuses on the bottom line and ignores the impact of persistent cuts on real people and communities".
The Community Platform has submitted its report to all members of the Government and opposition TDs.  Community Platform members note that the report challenges the popular perception that people on social welfare are 'work shy'. The report clearly shows that people do want to work, but austerity policies and lack of opportunity continue to trap them in unemployment and low-paid part-time work. The Community Platform believes that it is time for our politicians to stand up for struggling families and communities.