Still a long way to go
30 Apr 2014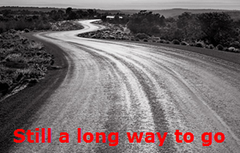 Today the Central Statistics Office released the Live Register figures for April 2014 and though the decline in the overall register continues, serious challenges remain in addressing long-term unemployment.
In April there were 178,225 people on the register for more than a year and though this represents a drop of 4.2% on the same month last year, it is evident that most of the annual drop in the Live Register is accounted for by a 9.1% drop in those on the register for less than a year.
As part of Pathways to Work the Government has given a commitment to working with employers and encouraging them to recruit an increasing number of people off the Live Register. It is absolutely critical that this commitment is delivered on and that good employment supports are provided to unemployed people to be able to access these jobs.
To make the most of the changes underway it is really important that unemployed people are given good advice and meaningful options to enhance their employment prospects. To that end it is important that unemployed people can opt into programmes and that the Department moves away from the increasingly directive approach it has adopted.
As Bríd O'Brien, Head of Policy and Media with the INOU noted " Facilitating people to make informed choices and matching them up with the most useful option, is not only really important from the individual unemployed person's perspective, it's also the most effective way of using the limited resources available".    
The INOU is a member of the Labour Market Council which launched its interim report on 30 th April. Amongst the recommendations made:
"The Council urges continuation of activation policies and other measures to reduce long-term unemployment which worryingly still accounted for 60% (169,0004) of total unemployment in 2013; and for these policies and measures to have at their heart the provision of an excellent service to unemployed people and one that strives to assist them to make the most of the opportunities available to them."  and,
"The Council urges the Government to reach the 2014 target of moving 22,500 long-term unemployed into employment as soon as possible. The Council also believes a more ambitious target of 30,000 should be considered."
 Click on the image below to read the full report