183,370 people long-term unemployed
5 Jun 2014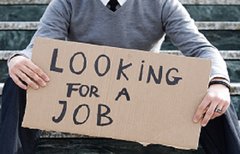 "The persistent challenge of long-term unemployment is very evident from today's release," said John Stewart, Coordinator with the INOU. John was speaking about the latest Live Register figures published by the Central Statistics Office today.  In May 2014 there were 388,764 people on the overall Register: 47.2% or 183,370 of these people were on the Register for more than a year.
Over the past three years the overall Live Register has fallen by 22.4%. However, over that time period the number of people on the register for more than a year increased by 4%. In May 2011 the numbers of people on the Live Register for more than one year went over 176,000 and it has remained above this figure since. In August 2012 it reached a high of 201,513 and though it has come down from that dramatic figure, in the past eight months it has stayed in and around 180,000 people. "It is absolutely critical that people who are long-term unemployed are given an opportunity to return to work and given the right supports to be able to find a decent job," John continued. 
At the INOU's recent Annual Delegate Conference, delegates raised concerns about the cuts to educational supports in recent years that have made participation on education and training programmes increasingly difficult for unemployed people. And so it is interesting to note that in the slight decrease in the numbers of people on activation programmes comes from a 12.2% or 5,148 decrease in education and training programmes in comparison to the 10.4% or 4,547 increase in participation on employment programmes. "It is vitally important that unemployed people who need to re-skill themselves are supported to do so," noted John. "And for those people who are participating on employment programmes that the Department's employment service strives to secure them a decent job in the wider labour market," John concluded.