We're not there yet
4 Mar 2015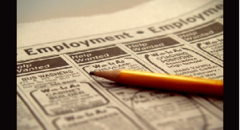 The seasonally adjusted register fell by 4,300 in the month to the end of February and by 10.8% or 42,900 in the last year.
This on-going decrease in unemployment and the increase in the overall numbers in employment evident in the most recent Quarterly National Household Survey is a very welcomed development. "However, we're not there yet," noted John Stewart, Coordinator with the INOU.
"Ireland has a long way to go to reach the pre-crisis levels of employment," he continued. Looking at the unadjusted figures there were 355,124 people on the Live Register in February, of whom 45.8% or 162,776 were long-term unemployed.
In their recent country report on Ireland, the EU Commission staff noted that long-term unemployment remains a problem and of particular concern to them, and to the INOU, is the share of structural unemployment.
There were 85,080 people on activation programmes, a slight increase on February 2014: of this number 49,031 people were on employment programmes, an increase of 4.3% on the same month last year.
"If unemployed people are to share in the current recovery, the state must ensure that people on the Live Register continue to be supported to access jobs and that DSP Intreo Service, underpinned by a sophisticated job matching system, work effectively with employers seeking to fill their vacancies," concluded John.