INOU response to Minister Michael Noonan's 'allergic to work' comments
7 May 2015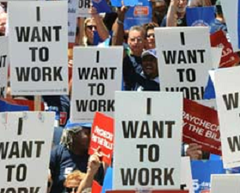 Amongst the reactions from unemployed people to the Minister Michael Noonan's comments were,
"Minister Noonan had no right to say this. Some unemployed people (such as myself) would rather work voluntarily than not work at all and I can assure you all that I have done my share of voluntary work. Voluntary work is fine, but it does not pay the bills and especially if the voluntary work is not located nearby, one has to consider the cost of petrol"
"disgraceful remarks"
"I am temporarily on jobseekers and I am actively seeking employment, volunteering & a Solas online course... I have a masters & have worked hard every day of my life.... I am not allergic to work -be it paid or unpaid!! I take on any job I can get! I'm disgusted at Minster Noonan! .... Let him spend a day in the shoes of a 'tiger-cub' qualified and currently "UNEMPLOYED" & how de-moralizing it is... to battle in this country to justify my €188...."
"The Minister's remarks are an outrage. Why he is allowing one bad apple to spoil the whole crop is anyone's guess…. Try walking a mile in anyone's shoes today who is unemployed and trying to raise a family"
"As a long term unemployed person with a level 9 honours business degree (Conferred January 2015), I cannot even get an interview, the reasons given:
Too old.
Too long out of work.
Over qualified."
It's striking that the Minister's comments come at a time when in their Spring Economic Statement, the Governments' stated aim is to have 2,155,000 people employed. They also note that this level of employment will be accompanied by an unemployment rate of 6.9% During the noughties when Ireland was deemed to have full employment, the unemployment rate was 2-3% less, as it moved between 4-5%.
An unemployment rate of 6.9% is approximately 160,000 people, when one includes other people who are jobless, people with disabilities, people parenting alone, the Government is envisaging a future that will exclude a very considerable number of people living and seeking to work in this country. To address this issue it is absolutely imperative that a strong commitment to equality and social inclusion is embedded in Ireland's labour market and economic policies.