Sharing in the Recovery
27 May 2015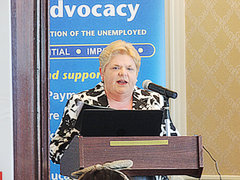 The Irish National Organisation of the Unemployed held its Annual Delegate Conference today, Wednesday 27th May, in Wynn's Hotel, Dublin. 
Ann Fergus, Galway Peoples Resource Centre and Chair of the INOU welcomed Richard Bruton, TD, and Minister for Jobs, Enterprise and Innovation who gave the keynote speech to the conference.  In her opening remarks to the Conference delegates, Ann noted "how important it was that as Ireland moved out of the crisis unemployed people are given the wherewithal to participate fully in the recovery".
During the course of the morning delegates debated the need "to fully restore Jobseekers' payments to pre-crisis levels" and to end the "age segregation introduced to Jobseekers Allowance payments during the economic crisis" and also to ensure that young people "who meet the means-test criteria, receive the full adult rate."  
Of particular concern to the INOU's General Branch is the on-going challenge of making ends meet and hence their motion to conference "calling on the Government to provide an exemption to the water charges for all social welfare recipients".
Delegates also discussed how important it is "that the creation and maintenance of decent jobs is at the heart of their Action Plan for Jobs and that integral to the Pathways to Work strategy is a person-centered approach that ensures unemployed people gain access to these jobs."
The conference called "on the Government to put in place the policies and practices that will ensure that unemployed people, regardless of their age, ability, gender, class, ethnicity including Travellers, geography, family or civil status, sexual orientation or religion will be included in the recovery and enjoy a decent standard of living and a sustainable future."
In the roundtable discussions delegates explored what needs to happen to ensure that unemployed people can indeed participate fully in the recovery.  Of particular concern to many delegates are the issues facing people who are long-term unemployed and who may not have the skills set, work experience or resources to access the work that is coming on stream.  Delegates were keenly aware that the recovery is not evenly spread and that many people are not feeling its positive effects.
Last week the Central Statistics Office published the Quarterly National Household Survey, Quarter 1 2015. "While welcoming the annual increase in full-time employment and the drop in unemployment it is worth noting that Ireland still has a long way to go to reach the pre-crisis heights, when in late 2007 there were 2,169,600 people employed in Ireland," said John Stewart, INOU Coordinator. "Of particular concern to us in the INOU is the fact that long-term unemployment, though falling, is four times higher now that it was in late 2007," John concluded.