Monthly Unemployment Report
3 Jun 2015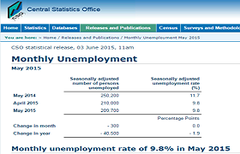 Today, Wednesday 3rd June, 2015 the Central Statistics Office (CSO) published a new report entitled the Monthly Unemployment Report . Each month when they publish the Live Register figures, the CSO point out that they should not be read as the unemployment figures. Why not? It includes part-time workers (those who work up to three days a week), seasonal and casual workers entitled to Jobseeker's Benefit (the social insurance payment), or Jobseeker's Allowance (the means tested payment). In April 2015, casual and part-time workers accounted for a fifth of the Live Register. The Live Register of May 2015 will be published on Friday 5th June.
The Monthly Unemployment report will use the most recent Quarterly National Household Survey (QNHS) as its baseline and then use changes in the Live Register figures to update these figures in between the QNHS. Up to now the Central Statistics Office has used the Standardised Unemployment Rate (SUR) as the mechanism through which they tracked the impact of movements in the Live Register on the unemployment figures. With this new report the CSO will no longer produce the SUR with the Live Register. 
So what does this new report tell us? Basically it contains the seasonally adjusted number of people who are unemployed, broken down by gender, and two age groups: 15-24 and 25-74. It also includes the seasonally adjusted unemployment rate. The information provided covers the period May 2013 to May 2015.
In May 2015 the unemployment rate was 9.8%, down 4% on May 2013. In May 2013, there were 297,800 people unemployed, this figure has fallen by 30% to 209,700 in 2015. Over the period the breakdown between men and women has marginally changed with men representing 62% of the unemployed and women 38% in 2015. Over the past two years the unemployment rate for men has dropped by 4.8% to 11% and for women it has dropped by 3.1% to 8.3%.
Looking at these figures from an age perspective, the unemployment rate for young men has fallen by 8.9% to 22.4% and for young women by 6.4% to 17.5%. For people aged 25-74 years unemployment rates fell less dramatically, the male rate by 4.2% to 9.9% and the female rate by 2.5% to 7.4%. However, the older age group account for 82% of the unemployed.
It is important to note that even though the figures are all moving in the right direction there is still a significant unemployment challenge facing the country: a challenge that would be considerably greater if so many people had not emigrated, re-entered education and training, or if these figures included all those who have lost heart in finding a job.