INOU launch flagship publication "Working for Work"
16 Sep 2015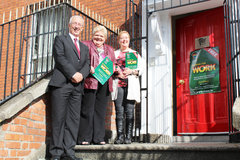 INOU launch flagship publication "Working for Work"
On September 16th , Ann Fergus, Chairperson of the Irish National Organisation of the Unemployed welcomed Kevin Humphreys TD, Minister of State at the Department of Social Protection to Araby House. The Minister was in the INOU to launch the latest edition of the INOU's flagstone publication 'Working for Work'.
Speaking at the launch, Ann noted that the publication contains information on an important development that could have a major impact on unemployed peoples' lives, JobPath. "Though employment has continued to rise, it is still a long way off the levels seen at the height of the Celtic Tiger and feedback from unemployed people, members and affiliates from around the country indicate that many people have yet to see or feel the impact of the economic recovery," Ann noted.
With that in mind Ann urged the Minister and the Government to give serious consideration to increasing the income supports provided to unemployed people and other social welfare recipients. "Not only is it very difficult to manage on €188 per week, it is very hard to plan for the future, and really improve one's life chances," said Ann.
Working for Work provides unemployed people and others in receipt of social welfare payments with good information on the range of supports and services provided by the Department of Social Protection and through the Department of Education and Skills. 
On-line version of the publication is available at http://www.inou.ie/download/pdf/pdf_final_version_2015.pdf
Time of launch: 11am
Date: 16th September, 2015
Venue: INOU, Araby House, 8 North Richmond Street, Dublin 1
Note to Editors:
'Working for Work' has proved to be an indispensable information book for unemployed people, front-line staff both in the state and community sector, and employers. It is the only comprehensive publication that brings together the wide range of supports available for unemployed people trying to return to work, education or training.
The book outlines an individual's entitlements to a range of social welfare supports and services including:
JobPath – Employment      Services
Housing Assistance      Payment
Supports to Return to      Work
Employer Incentives to      Recruit Unemployed people
Redundancy payments
Rights at Work
Social Welfare Appeals.
In addition, it provides valuable information on the options and opportunities available to those seeking to pursue education and training as part of their efforts to return to employment - including Work Experience opportunities, Training Courses, Back to Education Allowance, VTOS and part-time education options.
Copies of the book are FREE of charge      to organisations and groups working with the unemployed, those on welfare      payments and those working with people at risk of poverty. While basic      postage charges apply, this only covers the cost of postage.
The book is distributed      to over 200 INOU affiliate organisations around the country, as well as      Intreo/Social Welfare Offices, Citizens Information Centres, Money Advice      and Budgeting Services (MABS), VEC's, Libraries, Colleges, Youth Information      Centres, Local Employment Services, St. Vincent de Paul, Focus Ireland,      Threshold, Charities and various other National Organisations.
In addition to the production of the publication the Welfare Rights Information Service of the INOU also provides comprehensive telephone and e-mail based information and advocacy service to individuals and organisations.