What happened in October?
5 Nov 2015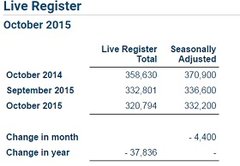 On November 3rd, the Central Statistics Office (CSO) published the monthly unemployment figures for October. According to these figures, 203,000 people were officially unemployed i.e. 203,000 people were actively seeking and available for work. This is 1,900 less people than in September and 24,900 less than in October 2014. The monthly and annual decline is a result of some people finding work, others re-entering education and training, others emigrating, and others not actively seeking or available for work as they may have lost heart or finding it difficult, for example, to address their care or transport needs.
On November 5th, the CSO published the Live Register for October 2015 which includes information on the numbers of people on Activation programmes in September 2015. In October, the Live Register stood at 320,794, a decrease on the month of 12,007 and on the year 37,836. 46.6% or 149,603 people on the Register in October were on it for more than a year, a decrease of 7,251 on the month and 21,289 on the year. 
In September, there were 74,274 people on Activation programmes: 50,259 on employment programmes and 24,015 on education and training programmes. Employment programmes showed a monthly increase of 5 and an annual increase of 1,029. Education and training programmes showed a post summer monthly increase of 8,658 but an annual decrease of 3,162.
The two biggest programmes continue to be Community Employment (22,692) and the Back to Education Allowance (12,537) - accounting for 47% of activation programme places, yet a drop of 2% on their share over the year.
Of the eleven Activation programmes reported on, only 4 increased over the past year: the Back to Work Enterprise Allowance (11,825); Part-time Job Incentive Scheme (411); TUS (7,827); and Gateway (2,342).