Irish Times interview with John Stewart
31 May 2016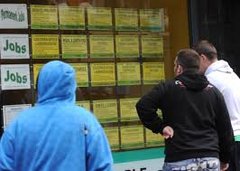 Unemployment group 'struggling' to cope with demand
Irish National Organisation of the Unemployed received 9,000 queries in 2015
The Irish National Organisation of the Unemployed (INOU) is "struggling" to cope with demand for its services
after it received 9,000 contacts from people last year.
Speaking at the organisation's annual delegate conference in Dublin on Wednesday, the organisation's coordinator John Stewart
said its two full-time and three part-time staff are under pressure due to the volume of queries about unemployment-related issues.
"We have a very small unit, two full-time and three part-time workers. We're endeavouring to respond to everybody... we're struggling,
staff are under huge pressure, that's always the case," he said.
"We'd like to employ more people directly to deliver those services but that's been an ongoing issue.
The organisation's finances have unfortunately been reduced over the last number of years, we've taken some major hits in terms of funding," he added.