Broken Politics Blog Brid O'Brien
9 Jun 2016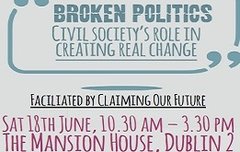 Blog No.4 from Brid O'Brien, Media and Policy INOU, in the run up to 'Broken Politics' discusses role of participatory democracy in transformative change
The role of participatory democracy in transformative change
Posted on June 07, 2016
Brid O'Brien is Head of Policy and Media with the Irish National Organisation of the Unemployed.
On June 18th Claiming Our Future is facilitating an event called Broken Politics Civil Society's role in creating real change
"It should be a really interesting and interactive day, where people coming from a range of organisations and issues will discuss how in their work they strive for transformative change, who they work with,how they work with them, how they organise this work to secure the best outcome, how they evaluate their work,and how they re-organise it when the desired outcome has not been achieved. Within civil society, there is a wide range of organisations focusing on different issues, working in different ways: invariably this diversity is portrayed as a weakness, but it could also be seen as a strength.../..."
for more information and to read on please click here