Minister Leo Varadkar launches "Working for Work"
3 Aug 2016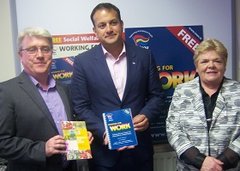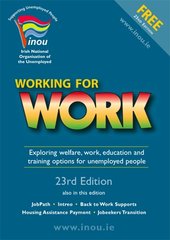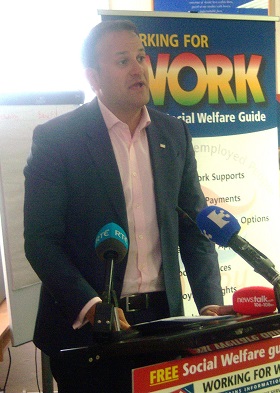 Today, 3 rd August, Ann Fergus, Chairperson of the Irish National Organisation of the Unemployed welcomed Minister for Social Protection Leo Varadkar TD , to Araby House, the INOU's office in Dublin's north inner city. The Minister was in the INOU to launch the 23rd edition of the INOU's flagship publication ' Working for Work' .
Working for Work provides unemployed people and others in receipt of social protection payments with good information on the range of supports and services provided by the Department of Social Protection; the Department of Education and Skills; Education and Training Boards; and work they support on the ground. 
Speaking at the launch, John Stewart, INOU Coordinator noted that " Working for Work has proved to be an indispensable information book for unemployed people, front-line staff in the state, the private and community sectors. It is the only comprehensive publication that brings together the wide range of supports available for unemployed people trying to return to work, education or training".
In her remarks welcoming the publication, the INOU's Chairperson, Ann Fergus urged Minister Leo Varadkar and the Government to give additional income supports to unemployed people and other social welfare recipients. "At the very least the Christmas Bonus should be fully restored and unemployed people should be able to gain access to it when they are twelve months unemployed," Ann said.
Ann also noted the difficulties facing unemployed people who come to the end of their Social Insurance Jobseekers Benefit (JB) payments, but, arising from their family circumstances, do not make the transition to the means-tested Jobseekers Allowance payment. Ann called on the Minister "to provide additional supports to these unemployed people by increasing the duration on JB by three months" and " to ensure that all unemployed people, regardless of the nature of their payment, can access employment services and supports               
 .