EAPN Ireland Discussion Forum #SIF2016
8 Sep 2016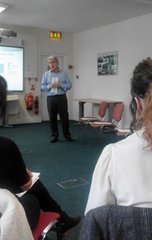 John Stewart, the INOU Co-ordinator welcomed participants to the preparation workhop before the Social Inclusion Forum next Wednesday 14th of September
Thanking all the participants tfor their excellent input and insights in the disucussion forum today at The Irish National Organisation of the Unemployed, All Together in Dignity - ATD Ireland, Migrant Rights Centre Ireland
Discussion Forum exploring different issues: anti-poverty/social inclusion plans and targets, current realities and issues around poverty in ireland
during the European Anti-Poverty Network Ireland preparation workshop before #SIF2016 #SocialInclusionForum Department of Social Protection
            
Social Inclusion Forum - Wednesday, 14th September 2016,
9.15am – 15.50pm
Chartered Accountants House, 47-49 Pearse St, Dublin 2
Theme: Growing an Inclusive Recovery
This year's Social Inclusion Forum (SIF) will take place on Wednesday 14th September 2016. This event is part of the institutional framework put in place by the Government to support the development of the National Action Plan for Social Inclusion (NAPinclusion), recently updated for the period 2015-2017.
The event provides a forum for wider public consultation and discussion on social inclusion issues between officials from Government Departments, Community and Voluntary Organisations and people experiencing poverty in relation to NAPinclusion. The Forum has ensured that people who are directly affected by poverty and social exclusion and those who work with them have a voice in the development of the policies that directly affect them, and in the ways that the policies are implemented.
See Publications for previous Social Inclusion Forum Reports and all Social Inclusion Division publications.
If you wish to attend this year's SIF please click here for conference brochure and booking form.
EAPN Ireland was established in 1990, the European Anti-Poverty Network, Ireland is a network of groups and individuals working against poverty. It is the Irish national network of the European Anti Poverty Network (EAPN Europe), which has two decades of experience in lobbying for progressive social change across Europe.
EAPN Ireland is made up of over two hundred local, regional and national anti-poverty organisations and individuals. EAPN Ireland supports members to influence national and European policy through training, information, collective action and networking.
Campaigns that EAPN Ireland has worked on in the last number of years include the 2010 European Year for Combating Poverty and Social Exclusion, Ireland in Social Europe: Challenging Perceptions and Changing Realities, the European Minimum Income Campaign, European Parliament Awareness Project, the Social Aspects of the Lisbon Treaty, and campaign to include poverty targets in the European 2020 strategy. EAPN Ireland has also worked with members at local level to retain capacity and fight cutbacks to existing services, and with associates at national level through campaigns like the Poor Can't Pay, the Equality and Rights Alliance, Is Feider Linn, and the Community Platform.   For more information please click here