Health as a Human Right Seminar
27 Jun 2017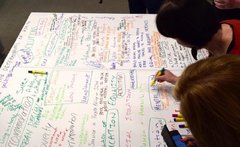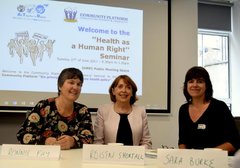 On Tuesday 27 June, ATD Ireland organised with the support of the Community Platform (a network of around 30 Irish community based anti-poverty organisations) the "Health as Human Rights" Seminar. This event was the opportunity to present in Ireland the learnings of the "Our Voices" project (a project funded by the EU Europe for Citizens Programme). Here are some pictures of the seminar!
Brid O'Brien from the INOU was Chairperson.
There were 3 key speakers: Ronnie Fay, Roisin Shortall TD, Chair of the Oireachtas Committee for the Future of Health Care and Sara Burke, TCD
Irish Human Rights and Equality Commission hosted the Seminar in their new public venue.
Pierre Klein from ATD Ireland and project participants presented the 'Our Voices' project and how the current health system lets down the most vulnerable in our society. Here is the link to the video presented at the event and which summarised their contribution to the "Our Voices" project: www.youtube.com/watch?v=vV-sU87ENKE. The full report of "Our Voices" can be found here: www.atdireland.ie/wp/ovstrasbourg/.
Roisín Shortall, TD, said the Sláintecare report represents a new vision for the future of healthcare: they want to move to a situation where everybody will have an opportunity to avail of high-quality, timely health services, irrespective of ability to pay. Amongst the blocks to implementation noted was the possible opposition arising as there's money to be made from sickness, but less money to be made out of health. Roisín called on all the community and anti-poverty groups in the room and the country "to create a head of steam behind Sláintecare".
read the SlainteCare report here