Did Budget 18 Deliver for Unemployed People?
10 Oct 2017
Press Release: 10th October 2017
Did Budget 2018 deliver for unemployed people?
 On Tuesday, 10th October, Minister for Finance, Public Expenditure and Reform, Paschal Donohoe, TD, announced Budget 2018. In his speech the Minister noted that, amongst other things, this budget will "Promote fairness and provide for sustained improvements in people's lives;"
At a recent INOU event Ann Fergus, INOU Chairperson, raised the difficult situation facing many unemployed people and urged the Government to "set social welfare rates at a level that will lift people out of poverty, and as part of that, to move closer to reinstating welfare payments to the 2009 levels." The importance of such a development is illustrated by the most recent Survey of Income and Living Conditions, as the poverty figures for people who are unemployed are considerably higher than the national figures. For example, in 2015 the national at-risk-of-poverty rate was 16.9%, but for people who are unemployed it was 43.5%.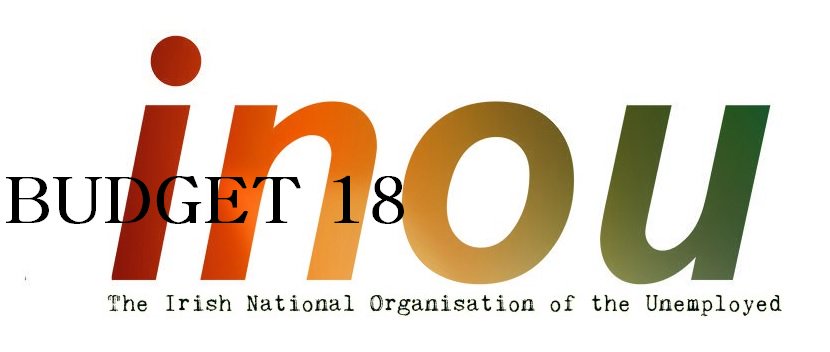 In our pre-budget submission the INOU called on the Government to:
Reinstate welfare payments to 2009 rates and abolish the age segregation introduced to Jobseekers Allowance in that Budget.
Benchmark all social welfare rates at a level which is sufficient to both lift people above the poverty line and provide them with a Minimum Essential Standard of Living.
 Budget 2009 was the Budget that introduced age segregation to the means tested unemployed payment, Jobseekers Allowance. The INOU has always regarded this development as discriminatory and has called on the Government to end it, and regrettably that did not happen today.
At present the full adult rate for someone on a Jobseekers payment is €193, in 2009 it was €204.30. "The announcement in today's budget of a €5 is to be welcomed," saidBríd O'Brien, INOU's Head of Policy and Media. "Though its roll-out from January 1st 2018 would be even more welcome," she continued, "but at least it makes further progress back to the 2009 levels". This will bring the full adult rate up to €198. 
At present the maximum rate applicable for young people aged 18-24 on a Jobseekers Allowance payment is €102.70, and €147.80 for people aged 25. If a pro-rata increase had been applied these payments would have increased to €105.40, and €151.60 respectively. Initially on Budget day  it looked like this would be the case. However, the Department of Employment Affairs and Social Protection Budget 2018 Factsheet made clear that the full €5 increase will also go to young people aged under 26 at the end of March 2018. This is a welcome development, bringing the payments up to €107.70 and €152.80 respectively, though still a long way off restoring age equality to this means-tested payment. 
With an initial read of the post budgetary documentation, it is unclear what progress will be made on the INOU's other Pre-Budget calls to Government: other Ministerial speeches and clarifications over the coming period should shed light on potential developments. These additional calls included:
Resource the provision of good career and employment guidance to support unemployed people to make informed choices, access appropriate education and training, leading to good quality employment in terms of job security and salary levels and in particular to ensure this is available to individuals and communities most disadvantaged in the labour market.
Support frontline staff to deliver a person-centred service with good guidance and information on the best options; and incorporate a strong equality and social inclusion focus to their work.
Facilitate access to employment programmes for all unemployed people, including people in receipt of no payment and ex-offenders.
Highlight the importance of signing-on for credits by delivering a complete information service, where the service is centred on the client, through welfare.ie and with poster displays and leaflets in the social welfare offices.
Plan for the employment and unemployment impacts of Brexit and in particular to identify the emerging and possible job losses, the potential alternative enterprises and jobs, and the education and training supports that are required to ensure unemployed people can gain access to these jobs, which must be decent and sustainable. 
Re-invest in community based organisations to support their work with people experiencing social exclusion and people who are distant from the labour market.
Listen to Brid's Analysis here  (O'Brien)
For Further information please contact:
Bríd O'Brien, INOU Head of Policy and Media at 01 856 0088 or 086 608 9641