FETAC - The Further Education and Training Awards Council

As part of our wide range of training services and commitment to quality we have developed our services to include FETAC modules. A further education and training award enables active participation in social, cultural and economic life and promotes continuous access to on-going learning.
Achieving a FETAC qualification provided by the INOU will create greater awareness and knowledge around welfare rights issues and the impact of unemployment on a person's ability to participate fully and equally in society.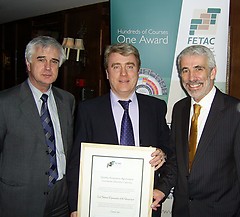 John Stewart, INOU Co-ordinator receiving INOU FETAC award
What is FETAC?
FETAC is the Further Education and Training Awards Council, the national awarding body for further education and training in Ireland. Set up as a statutory body on 11 June 2001 by the Minister for Education and Science under the Qualifications (Education & Training) Act, 1999. FETAC reports to the National Qualifications Authority of Ireland (NQAI) who manages the National Framework of Qualifications (NFQ).
FETAC gives people the opportunity to gain recognition for learning in education or training centres, in the work place and in the community. It has responsibility for making awards previously made by BIM, Fáilte Ireland (CERT), FÁS, National Council for Vocational Awards (NCVA) and Teagasc. Programmes leading to FETAC awards are offered nationwide by a wide range of providers in diverse settings. Further Education and Training Programmes are accredited by FETAC at six levels.
To find out more about FETAC click here.
FETAC Accredited Provider
As a FETAC accredited provider we are in the unique position of having a wealth of experience around welfare rights issues whilst also being able to provide relevant training in this area
Our courses and training are characterised by
The development of personal & vocational skills
Promotion of social inclusion & accessibility
Vocationally-focused learning based on occupational an/or individual learner needs
Education and training that reflects industry needs at national, regional and local level
Continuing education, training and professional development
As part of our commitment to consultation and participation and to assist us to provide an accurate, relevant and comprehensive service we are looking to you, our members and service users, to provide us with information on the training you would like to see us provide. Please click here to send us details of your welfare rights training needs.