November Unemployment Statistics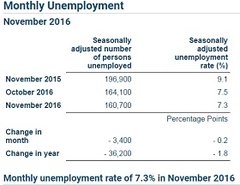 On November 29th, the Central Statistics Office published the Monthly Unemployment (MU) figures for November 2016. There were 160,700 people unemployed, an annual decrease of 36,200. A 22% drop in male unemployment accounted for most of this decrease. Male unemployment fell below 100,000 to 96,600, bringing it back to July 2008 levels, and down from a high of 219,700 men in December 2010.
The Monthly Unemployment Rate deduced to 7.3%, 1.8% lower than the same month last year. The unemployment rate for people aged under 25 was 15.5%, a drop of 4.8% on the November 2015. The unemployment rate for people aged 25-74 was 6.5%, a decrease of 1.5% over the year.  CLICK HERE to view Live Register.
On December 1st the Central Statistics Office (CSO) published the Live Register for November 2016. According to these figures there were 273,484 people on the Live Register. Over the year the Live Register figures fell across the 8 regions the country is divided into, with the biggest decrease visible in Dublin: 9,900, and the smallest decrease seen in the West: 3,242. 121,888 people, or 44.6% of it, were on the Register for more than a year.  
In an annex to the Live Register figures, the CSO also publishes data on participation on activation programmes, which lag a month behind the Live Register figures. So, in October 2016, there were 70,878 people participating on employment, education and training programmes: 12% fewer than the same month last year.
53% of the overall change was accounted for by a 17% drop in the numbers of people participating on education and training programmes. The numbers of people on the Back to Education Allowance (BTEA) dropped by 25% over the year to 13,501, this is the lowest number of participants in October on this scheme since October 2008. At that time there were 9,796 people on the scheme. The BTEA was expanded in response to the unemployment crisis, and at its height had 27,830 participants (April 2013). An ESRI evaluation of participants Live Register status in comparison to non-participants produced disappointing and troubling results, in particular given the strong relationship between educational and employment status. A qualitative study is underway to explore some of the questions raised.
A 9.1% drop in the numbers of people participating on employment programmes accounted for the remaining 47%. The biggest % year-on-year change was seen on the Gateway programme, there are 1,515 fewer people participating on this programme than a year ago, representing a 64% reduction.   
Check what's on in your area @CollegeAware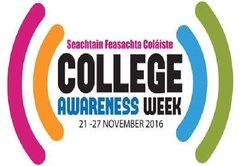 College Awareness Week aims to celebrate the benefits of going to college, to support students to become 'college ready' and to showcase local role models.