Figures down but lots still to be done!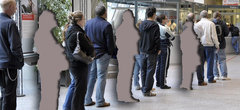 In December 2011 the Standardised Unemployment Rate (SUR) reached 15%, rising to 15.1% in February 2012, since September of that year the SUR has been declining and according to today's release from the Central Statistics Office, it stood at 10.6% in December 2014. "The last time the SUR was at these levels was in the first quarter of 2009, during the period when the Live Register rose very dramatically," noted Bríd O'Brien, INOU's Head of Policy and Media.    
The seasonally adjusted figure for December 2014 was 363,900, bringing this figure back to early 2009 levels. Looking at the unadjusted figure there were 356,112 people on the Live Register of whom 46.2% or 164,796 were on the Register for more than a year. "Looking back to December 2009 only 22.5% of the people on the Live Register were on it for more than a year," Bríd continued.
In the second quarter of 2011 the numbers of people on the Live Register for more than a year went over 175,000, rising to 201,513 in August 2012. It was only in October last year that this figure went down below 175,000. Even though this figure has fallen since it still represents a lot of people, many of whom have been on it for more considerably more than one year.
Looking at the age profile, people aged 25+ represent 90% of those on the register for more than a year: within this grouping the three biggest age categories are people aged between 25-34, 24%; people aged 35-44, 23%; and people aged 45-54, 20% or 110,766 people in total. Though the figures are all moving in the right direction clearly a lot more needs to be done to support people who are long-term unemployed to access paid employment.
In the Live Register monthly report, the CSO also provides an update on the numbers of people on Activation programmes including Community Employment, the Back to Education Allowance, TÚS and JobBridge. In November 2014 there were 86,160 people on these programmes, a 0.5% increase on November 2013. In November 57.5% of participants were on employment programmes, the biggest of which is Community Employment with 23,035 participants. There was a 7% drop in the numbers of people participating in education programmes in November 2014. The Back to Education Allowance, which supports people to undertake second or third level programmes is the biggest activation programme with 27,714 participants. "It will be important to ensure that anyone participating on these programmes is getting the most out of them and that they are improving their chances of securing a decent job," Bríd concluded.   
Career Zoo Saturday February 21st 2015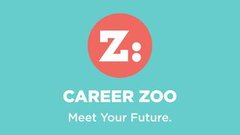 The 2015 Spring Career Zoo takes place on Saturday, February 21st 2015 in the Convention Centre Dublin from 10am to 5pm.
As well as leading employers and organisations, you can expect to see industry leaders, the return of Tech Town, BioCluster, Tech Box and many more surprises.
Over 10,000 delegates are expected to take part at the Spring Career Zoo. Don't delay and register your place at Ireland's keynote career networking event.
Click here to register for your free ticket
Venue
The Convention Centre Dublin (The CCD), Spencer Dock, North Wall Quay, Dublin 1
To see the Upcoming Events Page click here