Live Register Continues to fall…..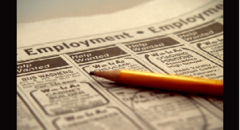 The fall in the Live Register continued in March.  The seasonally adjusted unemployment figure was 350,600 giving a standardised unemployment rate of 10%.  The seasonally adjusted register fell by 4,700 in the month to the end of March and 42,556 in the last year. 
This on-going decrease in unemployment and the increase in the overall numbers in employment is a welcomed development.  The number of people who were long-term unemployed in March stood at over 160,000, down 18,932 in the year. Notwithstanding this decrease, the level of long-term unemployment is still a cause for serious concern and every effort must be made to ensure that people who are long-term unemployed share in the economic recovery.
 There were 85,769 people on activation programmes in February.  
Open Day at Killester College, Dublin 5

Killester College of Further Education are holding an open day at the college on 21 April 2015 from 4:00-7.45pm. The event is aimed at adults who want to continue their education. The college runs part-time, full-time and evening courses in:
Science
Arts
Business 
Computers
Information Technology
Childcare
Languages - French, Italian and Spanish
Disability and Care Support Worker
Pharmacy Assistant
Security Systems
Office Skills
Horticulture 
Property Maintenance
Interior Design
Dancing
Singing
 A repeat event is being held on Wednesday 20th May 2015 from 10:00-1:00pm
For more information click here
To see the Upcoming Events Page click here
We're not there yet 4 Mar 2015 - The seasonally adjusted register fell by 4,300 in the month to the end of February and by 10.8% or 42,900 in the last year.This on...
Unemployment is still an issue for far too many people 4 Feb 2015 - The fall in Live Register continues in January as today's Live Register figures point to a slow but on-going improvement in the ...
Action on Jobs 30 Jan 2015 - Action on Jobs Yesterday (Thursday), the Government published the Action Plan for Jobs 2015. The Plan is the fourth annual plan i...