187,598 people on the Live Register for one year+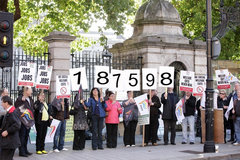 According to the Central Statistics Office there were 187,598 people on the Live Register for more than a year in August 2014 - now representing 47.1% of the register. Over the same period the numbers of people on activation programmes increased marginally to 64,170. A striking feature of this figure is that the number of people on employment programmes increased by 9.4%, while the number on education and training programmes decreased by 18.8%.
WORKING FOR WORK IS 21 17 Sep 2014 - On the 17th September, Ann Fergus, Chairperson of the Irish National Organisation of the Unemployed welcomed Kevin Humphreys TD, M...
Budgeting to address Unemployment 5 Sep 2014 - At today's National Executive Committee meeting the NEC reiterated the INOU's call on the Government to move beyond its 'Pro...
JobPath Explained 2014 20 Aug 2014 - To read the INOU guide to explain JobPath click here...