What are the stats telling us?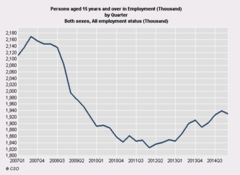 The Quarterly National Household Survey for the first Quarter, 2015 was recently published. As Graphs 1 and 2 demonstrate the overall statistics are moving in the right direction.
However, as Graph 1 illustrates Ireland has a long way to go before we reach pre-crisis employment levels.
At its height, Quarter 3, 2007 Ireland employed 2,169,600 people; in the first quarter of this year there were 1,929,500 people in employment. The annual increase in employment was all in full-time employment which is very welcome. Amongst the sectors that experienced increases in employment were the construction and the financial, insurance and real estate sectors which accounted for 59% of the increase. Curiously, amongst the sectors that experienced a decline were the professional, scientific and technical activities and the accommodation and food service activities sectors, a drop of 6,400 and 1,500 respectively.
Grad Ireland Summer Fair - Dublin
Just graduated? Not sure what your options are?
The annual Summer Fair is the perfect opportunity to explore the next steps in your career or education. There will be plenty of employers on hand promoting opportunities with their companies for students and graduates, as well as a large number of course providers discussing further study options. Get the date in your diary and don't miss out! Wednesday 10 June, in the RDS, Dublin
What to expect at the fair
gradireland jobs wall with thousands of live graduate jobs and internships
Loads of further study providers from Ireland and abroad - see the exhibitor list for details
Professional CV advice from the Association of Higher Education Careers Services
A range of FREE seminars
and more....
For more information click here
To see the Upcoming Events Page click here