What are the stats telling us?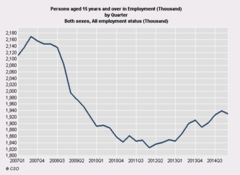 The Quarterly National Household Survey for the first Quarter, 2015 was recently published. As Graphs 1 and 2 demonstrate the overall statistics are moving in the right direction.
However, as Graph 1 illustrates Ireland has a long way to go before we reach pre-crisis employment levels.
At its height, Quarter 3, 2007 Ireland employed 2,169,600 people; in the first quarter of this year there were 1,929,500 people in employment. The annual increase in employment was all in full-time employment which is very welcome. Amongst the sectors that experienced increases in employment were the construction and the financial, insurance and real estate sectors which accounted for 59% of the increase. Curiously, amongst the sectors that experienced a decline were the professional, scientific and technical activities and the accommodation and food service activities sectors, a drop of 6,400 and 1,500 respectively.
Education & Training Fair in Baldoyle
Baldoyle Training Centre in Dublin 13 will host an Education & Training Fair on Thursday 28th of May - 10am to 3pm.
A range of local organisations will be in attendance offering people guidance and support on courses and apprenticeships available including:
National College of Ireland
NLN - the National Learning Network
Fingal Adult Education
Grange Community College
Killester College of Further Education
FAI - The Football Association of Ireland
For more information click here
To see the Upcoming Events Page click here