Increase in numbers in employment but unemployment remains a stark reality for many people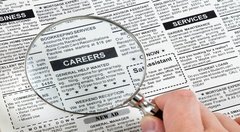 Today the Central Statistics Office published the Quarterly National Household Survey (QNHS) figures for Quarter 3 2014. Employment increased by 27,700 over the year to 1,926,900 and unemployment fell by 37,400 in the same period to 245,700. The largest rate of increase in employment was in the construction sector – up 7,000. The numbers of people in full-time employment has increased by 26,100.
The seasonally adjusted unemployment rate is now 11.1%.  Long-term unemployment has also fallen in the period to 139,311.  Currently long-term unemployment accounts for over 56% of total unemployment. The increase in the overall numbers of people in employment coupled with the increase in the numbers of people in full-time employment is to be welcomed.
Notwithstanding the increase in the numbers in employment, there are still very significant numbers of people who are fearful about the prospect of remaining unemployed. More needs to be done to support people who are unemployed and particularly who are long-term unemployed to find paid employment. The Department of Social Protection JobPath initiative will be rolled out early next year and it is absolutely vital that this new service puts the unemployed person at the heart of what it does in order to support people to get back to work.
INOU Roadshow comes to an end for 2014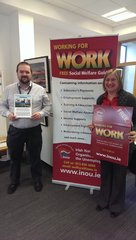 A big thank you to everyone in both the Tullamore and Edenderry Libraries yesterday and for all those who participated in the Roadshow Events for 2014 (Joe Kinane, Tullamore Libraries and Edel Kelly, INOU pictured right).
We look forward to running similar events in 2015.  
For more information on all our events visit our events page