INOU Discussion Forums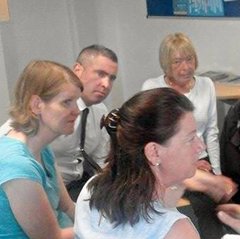 A key aspect of the work of the INOU is to meet with frontline information providers through free regional Discussion Forum meetings to take on board their experiences of dealing with core issues affecting unemployed people. These forums are also an opportunity for front-line workers to gain support, network and profit from the experience of others.
They have also proved to be invaluable for the INOU as they provide us with direct contact with front line information providers who gives us feedback, submits queries and raises concerns on a range of complex issues affecting unemployed people. Over the years the INOU have held at least one meeting in Cavan, Clare, Cork, Donegal, Dublin, Galway, Kilkenny, Limerick, Longford, Sligo, Waterford and Westmeath.
At the beginning of each Discussion Forum Attendees are given literature formatted to cover the content of the presentation on one side, with a space beside to make notes on the discussion which ensues. In this way they keep a useful reference document to the subject matter and also get to benefit from the knowledge of other participants who share their experience.
The INOU organises several Discussion Forums around the country every year, and details are always posted in advance on www.inou.ie.
John Farrell, can be contacted at membership@inou.ie if you are interested in taking part at a future event.