Discussion forums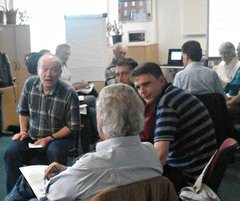 A key aspect of the work of the INOU is to meet with staff from a range of local organisations through regular free events, which we call Discussion Forums. These take place in different regions throughout the country and we plan to organise five regional Discussion Forums this year.
The Discussion Forum meetings format normally includes two INOU presentations or updates on employment/unemployment related issues along with lots of time for discussion. Both the larger and smaller group discussions allow people to share their work experiences and learning on current employment/unemployment topics. The Discussion Forums are very well attended and many participants have highlighted that the Forums are very good for networking.
We are very grateful for the involvement of so many people at these events since we first organised them in 2004 and since then, the INOU have held at least one meeting in Cavan, Clare, Cork, Donegal, Dublin, Galway, Kilkenny, Limerick, Longford, Sligo, Tipperary, Waterford, Wexford and Westmeath.
If you are interested in taking part at a future Discussion Forum or would like to know more about these events please contact John Farrell at membership@inou.ie